Rag dolls are one of the oldest children's toys that children have forever treasured from their childhood throughout their life into adulthood. Soft cushiony and cuddly fabric bodies are stitched with embroidered facial features and embellishments, clothed in cute and fun outfits and costumes from cloth to elegant textiles that make unique personalities. The traditional rag doll is often a young child's best friend and cherished toy for life.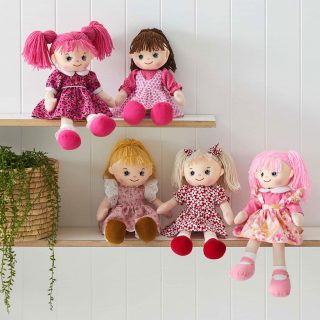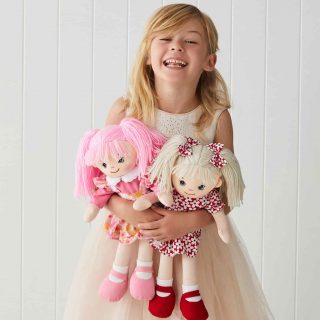 Playing with dolls, whether it's a baby doll, rag doll or fashion doll, helps to develop your child's social skills, their sense of responsibility and empathy towards others.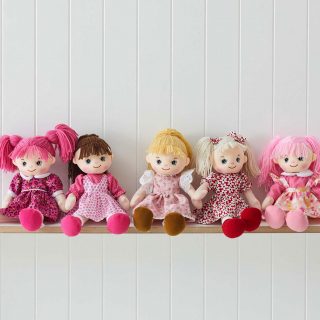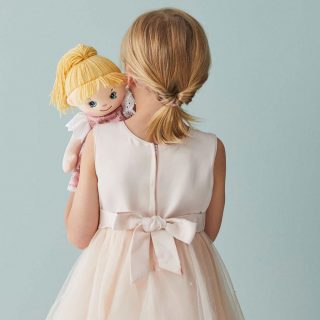 Soft and cuddly to touch, easy for little fingers to grasp and light in weight to carry. A rag doll is the perfect toy and security blanket substitute for children that is emotionally comforting for children.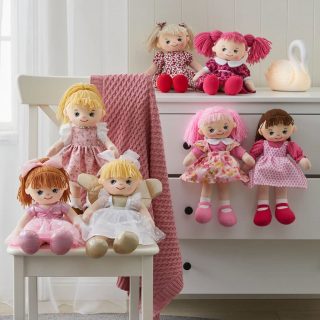 Rag dolls are designed to be played with, but also make a lovely decoration or art piece for collectors, showcasing their beautifully sewn dresses in modern and traditional fabrics and perfectly styled hair. The sweet natured style of the My Best Friends rag dolls can enhance the décor of a child's bedroom or nursery and create an inviting room for children.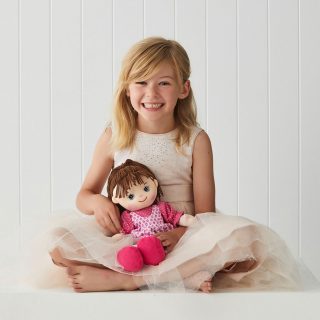 My Best Friends dolls and their in stunning detail and design are sure to put a smile on your little ones face with their sweet and happy faces and beautiful fashion style.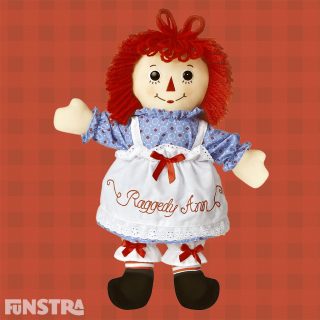 Raggedy Ann is one of the most recognised rag dolls with red yarn for hair and a triangle nose and first appeared the Raggedy Ann Stories book series of children's stories by Johnny Gruelle in 1918.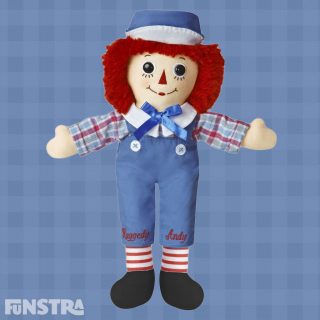 Raggedy Andy is Raggedy Ann's brother and was introduced to children in the sequel to the Johnny Gruelle children's book series, Raggedy Andy Stories.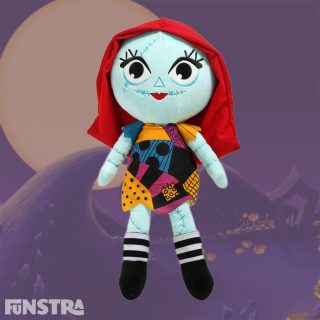 Sally is a living rag doll and Jack Skellington's love interest in Tim Burton's, The Nightmare Before Christmas.
What are Rag Dolls?
A rag doll is a children's toy, with simple features on soft cloth bodies that often wear patchwork clothing. Traditionally homemade from spare scraps of material, the rag doll was used to teach children how to sew and children could practice sewing clothes for their doll.
Today, we are spoilt with a massive selection of rag dolls that showcase many personalities and occupations as these adorable dolls wear fun outfits made from diverse fabrics and patterns with detailed embroidered features. From ballerinas to princesses, to doctors and nurses, and fireman to the girl next door, there is a rag doll friend personalised to every child's unique and individual personality.
The rag doll is a fun educational toy that aids child development. Through pretend play, these soft cloth dolls can positively impact the physical, cognitive, emotional, and social development of children. The rag dolls become a valuable learning toy when used during imaginative play time, storytelling and role play activities as they can teach young children nurturing skills and about caring for others.
Often rag dolls become a young child's best friend and act as a comfort object that provides support to children and the dolls accompany them wherever they go. Their soft bodies make a perfect friend for infants and toddlers that offers lots of hugs and cuddles... loved by both girls and boys alike.
More Related Products: Barbie | Bratz | Disney Princess | LOL Surprise | Lalaloopsy | GUND | Jellycat