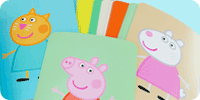 Card games have been played by young and old for centuries. A game of cards not only offers entertainment for kids, but provides many benefits to develop fine motor skills, patience, concentration and good sportsmanship as they develop social skills from friendly competition with family and friends.
Many playing cards feature fun characters and designs on the face and back of the cards. A pack of cards is compact and portable and requires only a flat surface for game play, making it an ideal form of entertainment for children to take anywhere.
Benefits of Playing Card Games with Children
Playing a game of cards not only stimulates and exercises the mind, but helps children to develop fine motor skills. As little hands hold playing cards, shuffle and deal the deck of cards, they build dexterity and agility, quicken reflexes and hand-eye co-ordination with cards.
There are countless card games with a variety of game play goals, that include matching, fishing, shedding or accumulation games. Playing cards can support many types of learning and problem solving skills as they follow the rules of the game. Children can learn memory recognition, matching, concentration, language skills, sequences, alphabet letters, number and pattern recognition.
Most card games require multiple players that expands a child's social interaction as they engage in friendly competition with friends and family. Like board games, children can develop skills in listening and communication and learn patience and good sportsmanship as they develop social skills and build relationships.