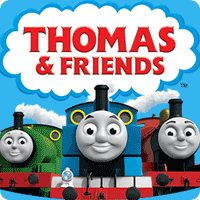 Thomas is the number one blue engine on the Island of Sodor and is a really useful engine. For over for over 70 years, children have been entertained by the stories of Thomas and his train friends, James, Percy, Gordon, Henry, Toby and as we follow their adventures on the railway. Explore the rail and train world of Thomas the Tank Engine toy trains, playsets, soft toys to cherish and cuddle, fun games to play, musical toys to listen, learn and giggle with, bedding for your home and more train merchandise available at Funstra now. All aboard!
We can't find products matching the selection.
Thomas and Friends have entertained youngsters with their railway adventures since 1946, with Thomas the Tank Engine's first appearance in 'The Railway Series' story books that were written by Rev. Wilbert Awdry and continued by his son, Christopher Awdry, which later led to the phenomenal global success of the children's television series, Thomas & Friends, with over 450 episodes. Thomas the Tank Engine is a cheeky little steam locomotive that works hard to be the No. 1 blue engine on the railway of the Island of Sodor and he always strives to be a Really Useful Engine. Thomas the train's adventures are based around his friends, Percy the No. 6 green engine, James the No. 5 red engine, Toby the No. 7 brown tram engine, Gordon the No. 4 blue engine, the Fat Controller and the many more characters.
Meet the Characters

Thomas
Thomas the Tank Engine
Thomas the Tank Engine is the No. 1 blue engine and is a cheeky little train. Thomas has brilliant blue paintwork and has a number 1 painted on both his side tanks. He is a 0-6-0 steam locomotive and is based on the London, Brighton and South Coast Railway 0-6-0 E2 class train with extended side tanks. Thomas works hard and always strives to be a Really Useful Engine.

Percy
Percy
Percy is the No. 6 green engine. Percy is Thomas's best friends and he loves delivering the mail. He is a 0-4-0 saddle track steam locomotive and is based on the Avonside 0-4-0ST. Percy is always happy to help his friends, and sometimes the other engines take advantage of his good nature.

James
James
James is the No. 5 red engine. He has beautiful scarlet paintwork with black and gold stripes and a brass dome and thinks of himself as a Really Splendid Engine. James is a 2-6-0 mixed-traffic engine and is based on a Hughes Class 28 superheated 2-6-0 tender steam locomotive.

Gordon
Gordon
Gordon is the No. 4 blue engine and is the fastest and most powerful engine on Sodor. Gordon pulls the express and uses his superior strength to help the smaller engines out of trouble. He is based on a Gresley Liner A3 4-6-2 engine.

Henry
Henry
Henry is the No. 3 green engine and is a very hard worker and loves nature. Henry is a long and fast engines that is painted green with red stripes and is based on a Stainer 4-6-0 Class 5 engine.

Rosie
Rosie
Rosie is a tomboy tank engine and is a lavender train with light grey sides. Rosie is based on a Southern Railway USA Class 0-6-0T locomotive. Rosie often works alongside Thomas and idolizes the number 1 blue engine, mimicking his every move and drives Thomas a little bit crazy.

Emily
Emily
Emily is a Stirling Single tender engine. Emily has emerald green paintwork with gold stripes and brass fittings. Emily acts as a sisterly figure to the other engines and can be bossy at times, but is always there to help her friends. Emily is based on a Great Northern Railway Stirling Single.

Edward
Edward
Edward is the No. 2 blue engine and is one of the oldest engines on The Fat Controller's Railway. Edward is a kind and wise engine and is a good friend to everyone, spreading his knowledge and encouraging attitude to the other engines. Edward is a tender engine that is based on a 4-4-0 locomotive.

Toby
Toby
Toby is the No. 7 brown tram engine. Toby is an old and wise engine, and is always willing to share his experience and knowledge with other engines. Toby is careful in everything that he does and very rarely has an accident. Toby is square in shape and is based on a steam driven 0-6-0 tram engine.

Harold
Harold
Harold is a good-hearted helicopter and is a Really Useful Engine that patrols the skies of the Island of Sodor. Harold the helicopter is painted white with red lines and is a part of the Sodor Search and Rescue Team. He likes to hover above the roadways and rails to keep a watchful eye on his friends. Harold is based on the Sikorsky S-55 helicopter.

Cranky
Cranky
Cranky is a large dockyard crane that is often grumpy and enjoys teasing the engines. He is painted olive green with black and brown pulleys. Cranky the Crane keeps things moving at Brendam Docks. From his lofty perch, Cranky the Crane sees the comings and goings of his part of the Island of Sodor.

Diesel 10
Diesel 10
Diesel 10 is a villainous engine that is a trouble-maker on the railway and he often causes confusion and delay for the steamies. Diesel 10 is a diesel-hydraulic locomotive with a claw attached to a hydraulic arm on his roof and is based on a BR Class 42 Warship from the British Rail.

Sir Topham Hatt
Sir Topham Hatt
Sir Topham Hatt is the Fat Controller and head of the railway on Sodor. The Controller of the Railway is a short, stout gentleman and wears a black jacket, tie and top hat. Sir Topham Hatt is responsible for making sure all the engines are Right on Time and Really Useful Engines.
Thomas and Friends Videos
Compare Products
You have no items to compare.
My Wish List
Last Added Items
You have no items in your wish list.