Meow! I am Pusheen the cat. With over 9 million fans, the adorable short hair gray tabby cat has won over the internet with her animated web comic strips all over social media. Originally a messenger sticker on Facebook, this little domestic pussy cat has been sent more than 14 million times to brighten the day of recipients. Fans enjoy the life of this cheeky cat with personality and charm, as she loves to show off dressing up and her love of food, as she captures the hearts of fans with an ever growing fan base.
Related Products: GUND | Soft & Plush Toys | Stuffed Animals | Cats & Kittens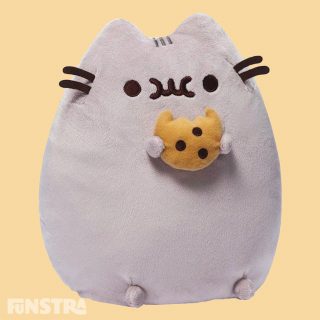 Bring home your very own super squishy and lovable Pusheen plushy — along with a soft sweet cookie! This classic standing pose plush version of Pusheen satisfies her sweet tooth with her chewing on a tasty-looking chocolate chip cookie.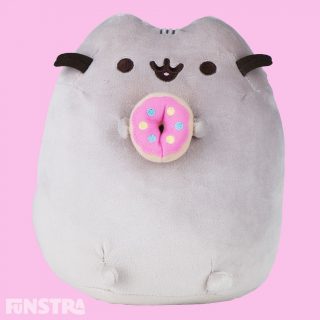 Pusheen satisfies her sweet tooth with a tasty-looking frosted donut. Pusheen is the snack-loving cat who loves to go on adventures with friends like Sloth, Stormy, Pip and Cheek in her popular webcomic with over 10 million social media fans!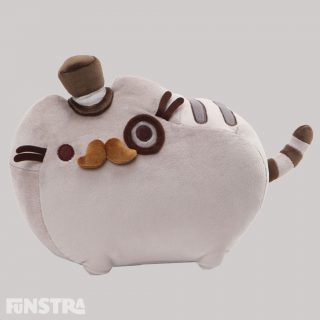 Fancy Pusheen lets you embrace your dandy and dapper side and features the adorable feline in a plush top hat, monocle, and mustache. Made from soft, huggable plush material consisting of polyester fibers and plastic pellets and is surface-washable for easy cleaning.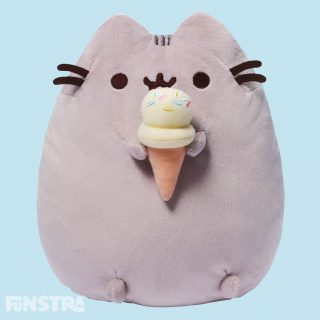 Pusheen loves to snack! Get in a sweet mood with this kawaii, super soft and lovable plush of Pusheen enjoying her own tasty ice cream cone! This classic lounging Pusheen plush toy features the kitty satisfying her sweet tooth with a big ice cream cone with rainbow coloured sprinkles.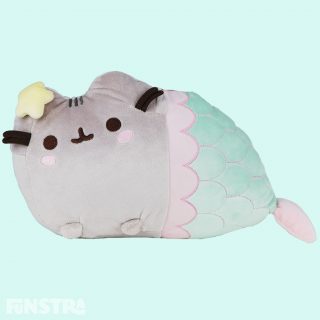 Make a splash with the super soft, cute and loveable Mermaid Pusheen Plush — she's just as magical as she is adorable! Made from all new materials and polyester fibers.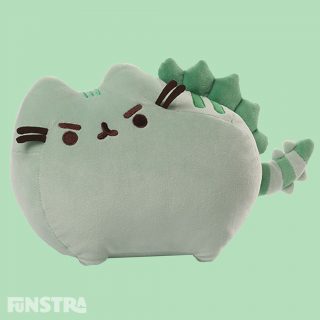 Pusheenosaurus is Pusheen dressed up as a green dinosaur was inspired by a popular web comic, and features a fearsome expression and spiky plush scales, but is a really a big softy at heart.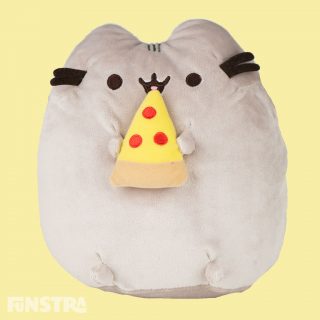 Pusheen can't wait to take a bit of her pepperoni pizza. This classic lounging Pusheen plush toy features the kitty satisfying her savory cravings with a delicious slice of pepperoni pizza made from super soft material.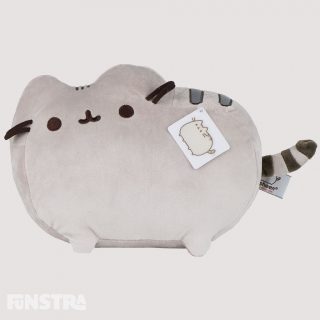 Pusheen plush soft toy in classic pose brings adorable web comic to life. Soft and huggable, like all geniune plushies from the GUND collection meets the famous GUND quality standards.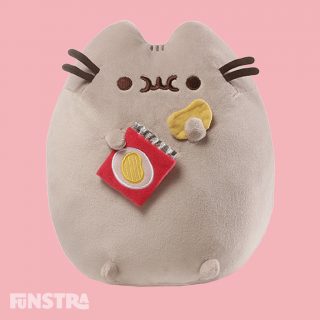 Enjoy some potato chips with Pusheen the tabby cat. Bring home your favorite snack and your favorite kitty with this super soft and lovable Potato Chip Pusheen Plush. Give the plush potato chip a squeeze to hear a satisfying crinkle!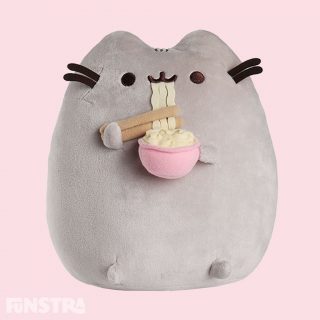 Pusheen is enjoying a yummy bowl of ramen noodles. Add this cuddly plush toy to your collection of plushies - a great companion for anyone that loves the famous tabby cat.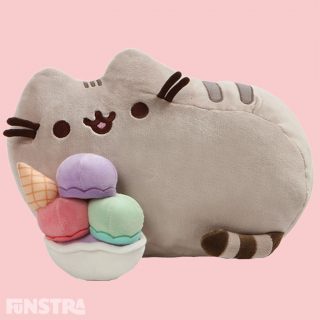 Pusheen gives new meaning to a Lazy Sundae with this sweet and adorable plush, enjoying a delicious ice cream sundae, complete with an ice cream cone in a bowl, with toe bean embroidered paw details across the bottom of the plush stuffed toy.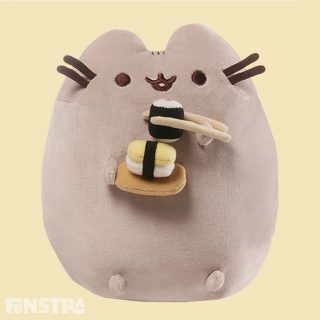 Enjoy a refreshing snack of sushi and nigiri alongside this super squishy and lovable Sushi Pusheen Plush!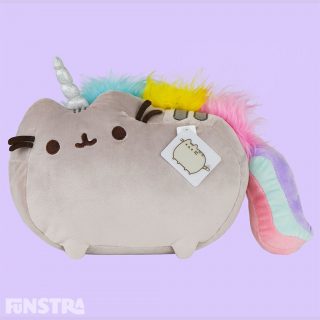 Pusheenicorn to life! Pusheen is a unicorn and features a beautiful colorful rainbow mane and tail as well as a sparkly unicorn horn and is super soft and cuddly plush toy of the popular mythical creature.
Pusheen is a cartoon chubby gray tabby cat that loves cuddles, snacks, and dress-up and has featured on comic strips and sticker sets on Facebook, Instagram, iMessage, and other social media platforms. As a popular web comic, Pusheen brings brightness and chuckles to millions of followers in her rapidly growing online fan base.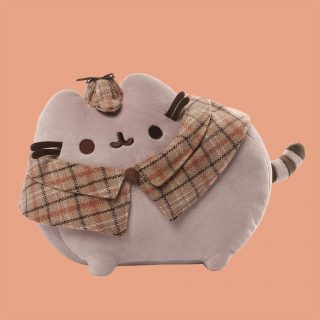 Purrlock Holmes features Detective Pusheen the cat wearing a Sherlock-Holmes inspired tweed pattern cap and cape that's perfect for sleuthing.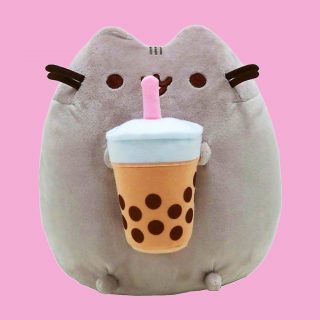 Pusheen the cat can't resist a yummy boba tea! This gorgeous plush kitty is holding a cup of boba tea with a pink straw in between her front paws.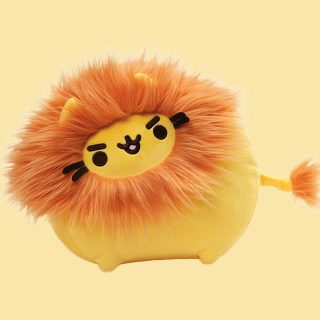 Queen kitty of the jungle, Pusheen is dressed up as a lion, with a fluffy orange mane and tail tip, this cuddly stuffed animals is from GUND's Pusheenimal plush collection.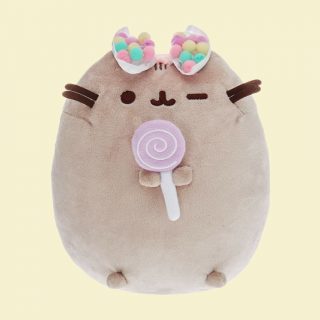 Pusheen is the sweetest cat and this plush soft toy is even sweeter holding a purple lollipop and wearing a colourful rainbow pom pom bow on her head.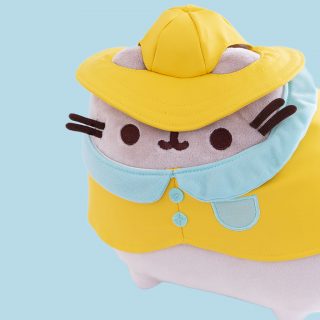 When it rains, it paws! GUND's favourite chubby grey cat wears an adorable yellow raincoat and hat. She's soft, cuddly, and ready to snuggle up for a rainy day!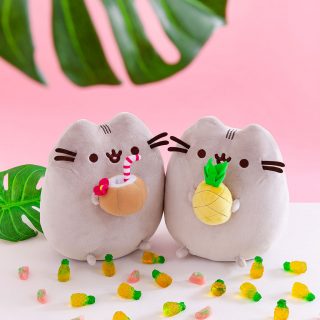 The sweetest party of Summer features tropical Pusheen plushies, sipping on a coconut drink and holding a pineapple, available exclusively at IT'SUGAR.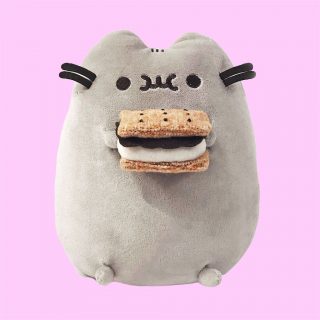 Guess who loves S'mores...Pusheen! The warm chocolate, toasted marshmallow and graham cracker is also one of Pusheen's favorite treats. Give her a hug and she might let you take a bite.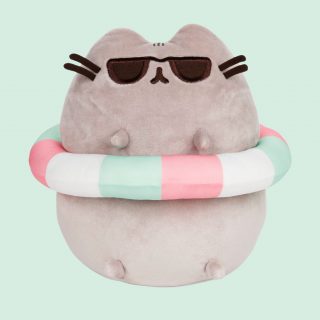 Pusheen is ready for fun in the sun in a pastel-striped tube and embroidered sunglasses and face details.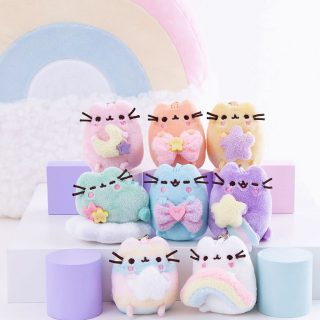 The Pusheen Surprise Rainbow Plush are the cutest mini plush at approximately 3 inches tall, each with a metallic silver latch to use as a plush keychain.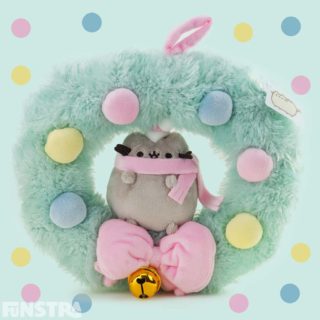 Merry Christmas from Pusheen!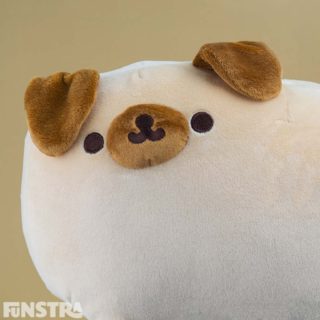 Now you can adopt your very own Pugsheen! This brand new medium plush features adorable poseable puppy ears for a variety of expressions and Pugsheen's signature curly tail.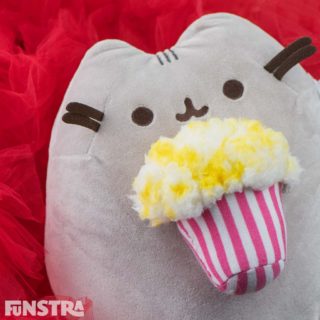 Pusheen plush enjoying an overflowing bucket of buttered popcorn. From the Pusheen Snackable collection, that features a cookie, ice cream, sushi, and more!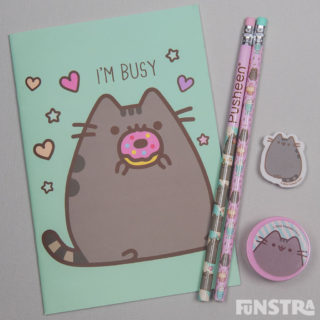 Pusheen puts her paw prints on your stationery with a cute illustrated range, featuring notebook, pencils, highlighters, ball point pen, pencil sharpener and more in a clear zipped bag as a pencil case.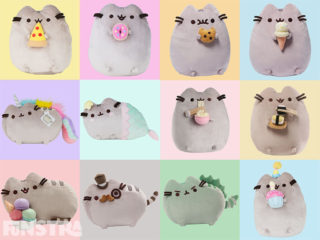 Pusheen Plushies