Peter is a mischievous and charming young rabbit that abounds in adventures with his friends Lily Bobtail and cousin Benjamin Bunny in the lush Lake District of northern England, along with Squirrel Nutkin, Mrs. Rabbit, Flopsy and Mopsy, Cottontail, Mr. Bouncer and the fox Mr. Tod. The animated television series is based on the Beatrix Potter children's books and the imaginative and adventurous rabbit since his debut in The Tale of Peter Rabbit in 1902 with new and exciting stories and toys that will stimulate your child's imagination. Explore the wonderful world of toys, gifts and merchandise of Beatrix Potter's enchanting characters and stories available at Funstra now. 'Let's go!'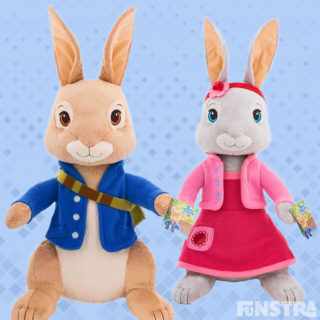 Cuddle Peter Rabbit and Lily Bobtail with these super cute and cuddly giant size plush stuffed animals, as you hop around on adventures together.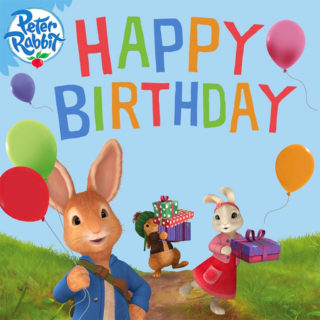 Celebrate your birthday with Benjamin Bunny, Lily Bobtail and Peter Rabbit with a birthday party inspired by Beatrix Potter's timeless characters.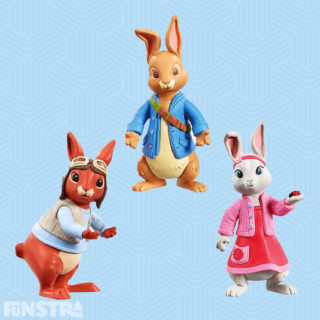 Imaginative play with Peter Rabbit figurines can take your child on whimsical adventures through timeless adventures in the Lake District with Peter, Squirrel Nutkin and Lily Bobtail plastic action figures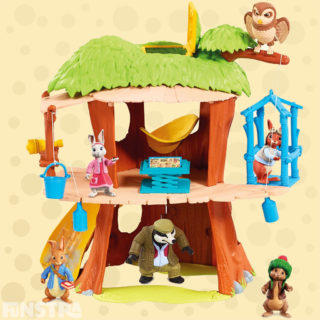 Let's Go! Re-create fun adventures with this secret treehouse playset with working lift, flip-over planning table, telescope and lots more fun features for your toy figures to explore.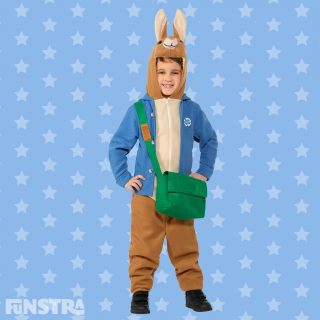 The mischievous and charming Peter Rabbit, wearing his signature blue jacket and satchel, is the perfect character for children's dress up parties, fancy dress and makes a great character for Book Week and Halloween.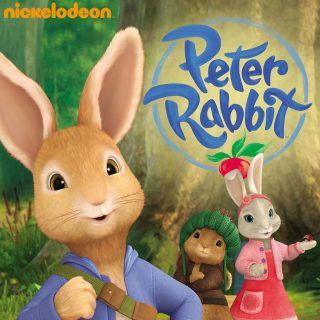 Join Peter Rabbit and his cousin, Benjamin Bunny and friend, Lily Bobtail as they entertain preschool children with their adventures in the Lake District of northern England in Nickelodeon's Peter Rabbit, based on Beatrix Potter's children's books.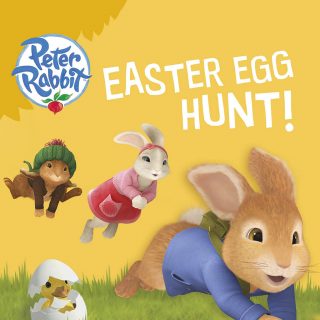 Peter Rabbit toys and gifts are a refreshing alternative to chocolate eggs for children at Easter. With soft plush toys, games and keepsakes, these adorable bunnies make lasting impression and are memorable Easter gifts for kids.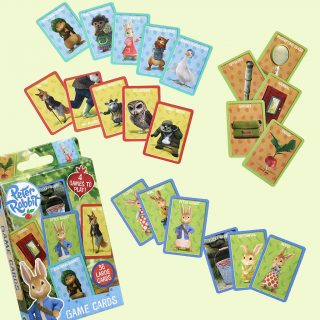 Play a game of cards with Peter Rabbit, Benjamin Bunny, Lily Bobtail, Squirrel Nutkin, Jemima Puddle-duck, Flopsy, Cottontail, Mrs. Tiggy-Winkle, Mr. Tod, Mopsy, Tommy Brock, Mr. McGregor and more of Beatrix Potter's classic characters.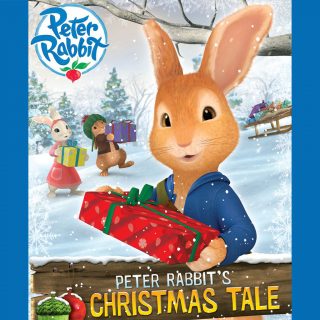 When Mr. Bouncer gets too sick to make the important holiday supply delivery, Peter and Benjamin take it upon themselves to brave a blizzard to get the job done and meet a new friend along the way in the Christmas holiday special, Peter Rabbit's Christmas Tale.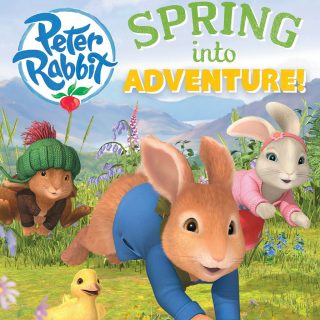 When Jemima's new egg goes missing in Spring Into Adventure, only Peter Rabbit is able to put together the clues and find the culprit. But can he find the egg before it hatches, or has he finally met his match in the devious newcomer, Samuel Whiskers?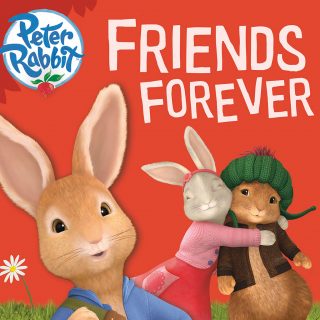 Peter, Lily and Benjamin are the very best of friends. Surely nothing can change that . . . Benjamin thinks Lily is amazing - she knows EVERYTHING! Lily promises to teach Benjamin about nature and they set off on a nature walk together. Peter is bored - he wants to go on an ADVENTURE, but his friends are more interested in leaves and bugs - and feeling left out, he sets off on a radish raid in Mr McGregor's garden. But suddenly Benjamin and Lily are in trouble. It's time for Peter to prove he's a true friend and leap to the rescue!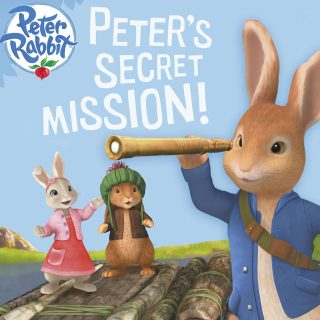 Grumpy Old Brown has stolen Peter's journal, left to him by his dad. Peter, Lily and Benjamin and their squirrel friends set off on a top secret mission to Owl Island to get it back. But when Nutkin is in danger Peter must make a choice: will he save his precious journal or his special friend?