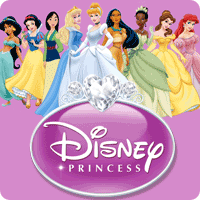 Snow White, Cinderella, Aurora, Ariel, Belle, Jasmine, Pocahontas, Mulan, Tiana, Rapunzel, Merida are the Disney's Princesses. From Walt Disney's animated films, the royal princess characters have touched our hearts in enchanting fairytales and stories, starring in books, television series and movies. Explore the enchanting world of princess toys, bedding and merchandise available at Funstra now or discover Elsa and Anna in our Frozen toys and Tinker Bell in our Disney Fairies toys.
We can't find products matching the selection.
For every girl that dreams, there's a Disney Princess to show her that it's possible. Walt Disney's princess characters have inspired children since 2000, with the official launch of the line. Over the years, the franchise has evolved with additional princesses from new media and currently stands at eleven characters, with Snow White, Cinderella, Aurora, Ariel, Belle, Jasmine, Pocahontas, Tiana, Rapunzel and Merida.
Meet the Characters

Ariel
Ariel
Ariel was introduced to us in 1989 in "The Little Mermaid". Ariel has long flowing red hair, a green mermaid tail and a purple seashell bikini top. Ariel lives in the underwater kingdom of Merfolk and longs to be part of the human world. Her under the sea adventures see her rescue Prince Eric from a shipwreck and fall in love and marry the prince and together they have a daughter called, Melody.

Aurora
Aurora
Princess Aurora is also known as Briar Rose and first appeared in Disney's, "Sleeping Beauty", in 1959. Aurora has long golden blonde hair and wears a pink or blue ball gown. As a newborn princess, Aurora was cursed by the evil, Maleficent, but the spell is broken by a kiss from her true love, Prince Phillip.

Belle
Belle
Belle was introduced to us in 1991 with the release of "Beauty and the Beast". Belle has long brown hair and is most recognized for her golden ball gown. Belle yearns for adventure, but when her father Maurice is imprisoned by a beast, she offers to give up her freedom and to take his place in an enchanted castle. There, she falls in love with the beast and breaks the spell, revealing the beast as Prince Adam.
Cinderella
Cinderella
Cinderella first appeared in Disney's animated film, "Cinderella" in 1950. Cinderella has strawberry-blonde medium hair and wears a sparkling blue ball gown. Cinderella lives with her evil stepmother and jealous stepsisters who mistreat her constantly. The Fairy Godmother assists Cinderella to attend Prince Charming's ball, but in her haste, she leaves a glass slipper behind, to which the mystery of the slipper's owner eventually unites the pair.

Jasmine
Jasmine
Princess Jasmine enchanted us in "Aladdin" in 1992. Jasmine has long black hair and wears a green tube top and pants, with large golden earrings. Jasmine lives in the kingdom of Agrabah, alongside her father, and loyal pet tiger, Rajah. Forbidden to leave the palace walls, she longs to see the world, and meets Aladdin to discover a whole new world outside the palace.

Merida
Merida
Merida was introduced to us in the Disney Pixar film "Brave". Merida is a Scottish princess and has long curly red hair and wears a dark teal Medieval style dress with gold trimming. She lives in DunBroch with her family and her mother tries to convince her to be the perfect princess, but Merida loves nothing more than riding on her horse, archery and fencing.

Mulan
Mulan
Mulan first appeared in the animated film "Mulan" in 1998. When her elderly father is forced to rejoin the army, Fa Mulan takes his place and disguises herself as a young man named, "Ping" with miniature dragon, Mushu, by her side. Mulan's uses her intellect and training to cause an avalanche on the entire Hun army and eliminate Shan Yu, receiving high praise from the Emperor and people of China and a romance with army captain, Li Shang.

Pocahontas
Pocahontas
Pocahontas debuted in Disney's animated feature film "Pocahontas" in 1995. Pocahontas is a free-spirited woman with tan skin, long black hair and an off-the-shoulder buckskin dress. She knows the beauty of nature and the importance of respecting the earth. Pocohontas restores peace between her Native American tribe and the English settlers, whereby she encounters John Smith.

Rapunzel
Rapunzel
Rapunzel was introduced in 2010 in the animated feature films "Tangled" and "Tangled Ever After". Rapunzel has magical long blonde hair and wears a purple dress with pink accents. Rapunzel spends her life in a secluded tower by Mother Gothel, but when runaway thief, Flynn Rider, stumbles upon her, Rapunzel discovers who she really is and is reunited with her parents.

Snow White
Snow White
In 1937 "Snow White and the Seven Dwarfs" introduced us to Snow White. Snow White is the fairest of them all and the Evil Queen wants her dead. Snow White escapes to the forest and stumbles upon the home of Seven Dwarfs. When Snow White mistakenly takes a bite of a poisoned apple from the Queen, she can only be saved by a kiss from her Prince.

Tiana
Tiana
Tiana debuted in "The Princess and the Frog" in 2009. Tiana is African-American with wavy black hair and wears an iconic green sparkling ball gown. She is a hardworking waitress in New Orleans that dreams of opening her own restaurant. Tiana is transformed into a frog after kissing Prince Naveen, that was turned into a frog by an evil witch.
Compare Products
You have no items to compare.
My Wish List
Last Added Items
You have no items in your wish list.