Teddy Bears in Pop Culture: Teddy Ruxpin, Super Ted, Rupert Bear, Gummi Bears & More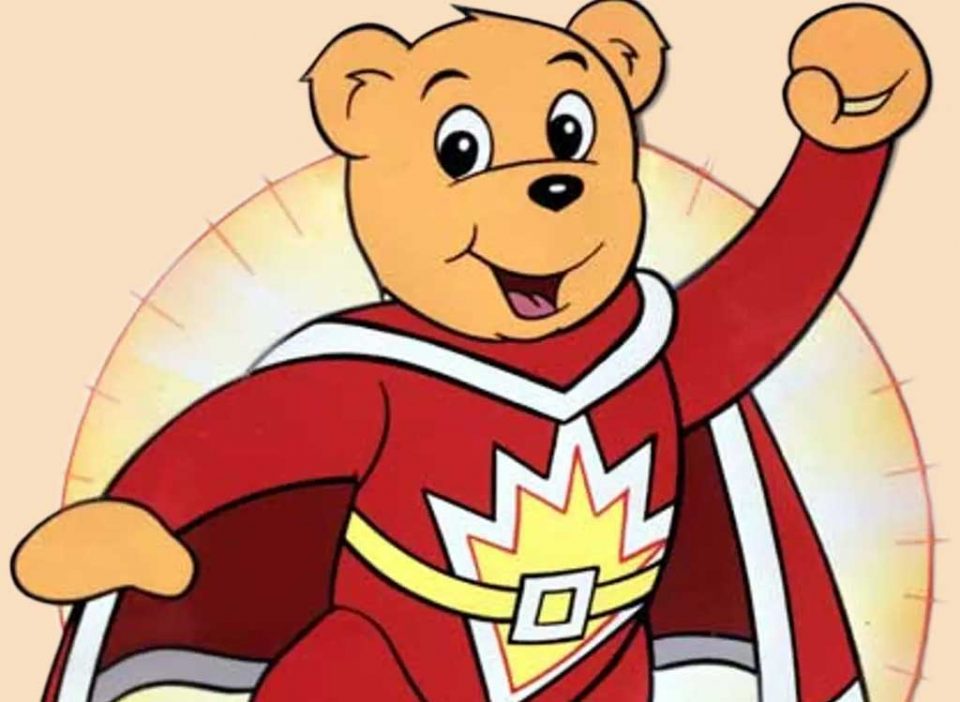 Since its creation by toymakers Morris Michtom and Richard Steiff in the early years of the 20th century, the teddy bear has inspired the creation of many books, television series and movies in popular culture over the years.
Many you'll remember from your childhood that have been revisited generation after generation and are still enjoyed by children today. Beginning with the revolutionary storytelling bear Teddy Ruxpin in the 1980's, and bouncing on to the Gummi Bears, Super Ted, Rupert Bear, Care Bears and many more movies, television series and literature featuring teddy bears.
Teddy Ruxpin
Teddy Ruxpin is an animated storytelling bear that was a popular children's toy from the 1980's. Teddy Ruzpin's mouth and eyes move while he reenacts stories played on an audio tape cassette deck built into its back. At the peak of its popularity, Teddy Ruxpin became the best-selling toy of 1985 and 1986, and the 2006 version was awarded the 2006 Animated Interactive Plush Toy of the Year award by Creative Child Magazine. The popular children's toy character was developed into an animated television series, The Adventures of Teddy Ruxpin in 1986, whereby the curious teddy bear leaves his homeland with his friend Grubby in search of adventure.
Super Ted
This is a story about an ordinary teddy bear. When he was made, they found something wrong with him and threw him away like a piece of rubbish into an old dark storeroom. Then from outer space, a Spotty man brought him to life with his cosmic dust. He took him to a magic cloud, where mother nature gave him special powers. That bear became, Super Ted!
The animated television series was released in 1983 and the teddy bear with superpowers, adorned with a red suit, cape and rocket boots. As SuperTed and Spotty travel across the world to help others in need, they find themselves up against the nefarious and greedy cowboy, Texas Pete, and his henchmen; the overweight and bumbling Bulk and the cowardly and effeminate Skeleton, as he seeks to either rule the world or increase his own wealth.
Care Bears
Care Bears are multi-colored bears that were originally painted by artist Elena Kucharik in 1981 and featured on greeting cards and were subsequently turned into plush teddy bears. Since then, the Care Bears were created into a children's television series, numerous revival television series and multiple feature films, Care Bears Movie in 1985, Care Bears Movie II: A New Generation in 1986, The Care Bears Adventure in Wonderland in 1987, Care Bears: Journey to Joke-a-lot in 2004, The Care Bears' Big Wish Movie in 2005, and Care Bears: Oopsy Does It! in 2007. The original Care Bears consisted of Tenderheart Bear, Love-a-Lot Bear, Funshine Bear, Bedtime Bear, Birthday Bear, Cheer Bear, Friend Bear, Good Luck Bear, Grumpy Bear, and Wish Bear
Gummi Bears
Gummy Bears bouncing here and there and everywhere! The Adventures of the Gummi Bears is a fun cartoon from the 1980's, loosely inspired by the gummy bear candies. The television series is well remembered for its catchy theme song and for the gummiberry juice, a magic potion that allows the bears to bounce away from their enemies.
The Teddy Bears Picnic
'The Teddy Bears' Picnic' is a song by composer John Walter Bratton, written in 1907, and the lyrics were subsequently added by songwriter Jimmy Kennedy in 1932. The song has featured in pop culture over the years, appearing in Goldilocks and the Three Bears, the Open Season film, an animated television special titled The Teddy Bears' Picnic and more.
If you go down to the woods today
You're sure of a big surprise.
If you go down to the woods today
You'd better go in disguise!
For ev'ry bear that ever there was
Will gather there for certain,
Because today's the day the
Teddy Bears have their picnic.
Sooty
Sooty, the adorable yellow bear puppet with black ears and nose appeared on television in 1955 and is a kind-hearted and cheeky little bear that performs magic tricks and practical jokes, squirting others with his water pistol. Joined by friends, Sweep the dog and Soo the panda bear, who are also puppets, the trio have entertained children with their various television series and the animated series, Sooty's Amazing Adventures.
Paddington Bear
Paddington Bear first appeared in he children's book, A Bear Called Paddington, written by Michael Bond in 1958. Paddington Bear is a friendly spectacled bear all the way from 'darkest Peru', and wears a red hat and blue duffel coat, carries a battered suitcase and loves to eat marmalade. The charming bear has become a classic character from British children's literature, appearing to children's television series and feature films.
Winnie the Pooh
The Winnie the Pooh character was created by A. A. Milne and featured in the children's story book Winnie-the-Pooh in 1926, followed by The House at Pooh Corner in 1928. In 1961, the rights were licensed to Walt Disney Productions and numerous animated productions of the loveable bear and his friends from the Hundred Acre Wood were created, entertaining children for decades.
Pudsey Bear
Pudsey Bear has been BBC Children in Need's mascot since 1985. The design of Pudsey has changed slightly over the years, but is a yellow-orange teddy bear with a white bandana with multicoloured spots tied over one eye and remains the charity's mascot.
Corduroy
Corduroy is a children's book written and illustrated by Don Freeman in 1968 and remains an iconic story in children's literature. The story takes place in the toy department of a luxury store, whereby Corduroy the teddy bear dressed in green overalls, roams the store after the doors are closed. The story looks at the differences between the life in a luxury department store and cherishing the simple life of home and friendship.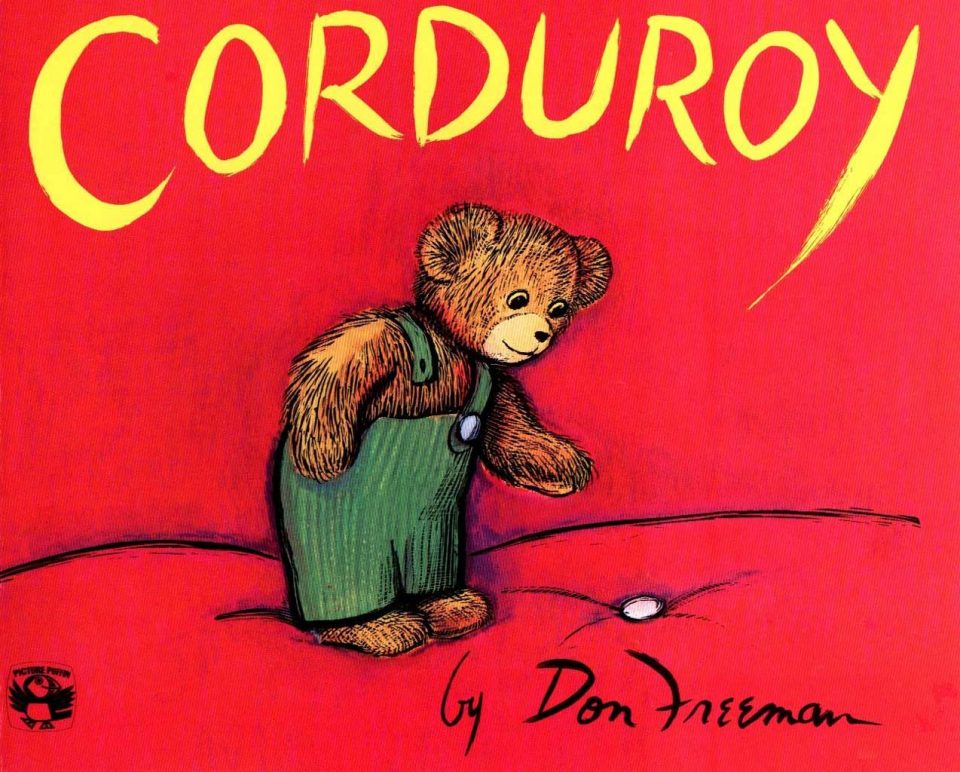 Forever Friends
The Forever Friends teddy bears were created by Deborah Jones in 1987 and remain a much love brand of Hallmark Cards. The adorable bears appeal to adults as well as children and feature on greeting card designs and giftware, which over the years has included cuddly toys.
Rupert Bear
Rupert Bear is a children's comic strip character created by artist Mary Tourtel in 1920. Rupert is a white bear, and wears a red jumper and bright yellow checked trousers, with a matching yellow scarf. Every year since 1936, a Rupert Bear annual has been released featuring adventures of Rupert, along with children's books from the Rupert Little Bear Library, written and illustrated by Mary Tourtel. Rupert first appeared on television in The Adventures of Rupert Bear, with numerous television series, featuring Rupert and his magical adventures.