The Sweetest DIY Handmade Loveys and Security Blankets
Our beautiful collection of the best handcrafted loveys and security blankets are sure to put a smile on you and your little one's face. Making your own personalised blanket allows you to choose your own textiles, fabrics, colours and style, and make your own truly special comfort toy. Whether it be a classic vintage style, modern blanket, or fun character lovey, create a cherished comfort object for your little one that reflects their personality and style.
Bear Lovey
For a beary cute lovey, you can't go past with crochet Bear Lovey Comforter Blanket from BlueSparrowPatterns on Etsy. Harry the baby bear lovey. is designed for little hands to cuddle. This adorable bear comforter toy is the perfect mix of amigurumi and blanket style crochet. Create your own baby teddy bear lovey for someone to treasure.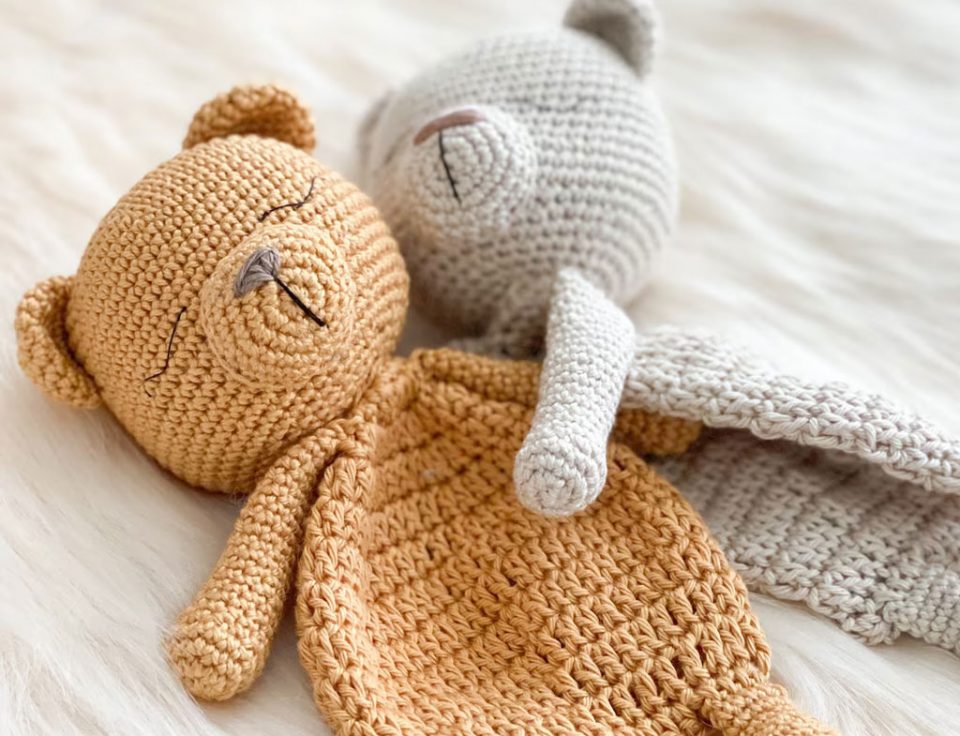 Fox Lovey Blanket
A gorgeous Fox Lovey Blanket can be your little one's cuddle buddy. This cute little fox is named Frankie, whom is a lively little fox whose favourite time of the year is Autumn, when a delicate earthy scent fills the air with golden colours. Create this adorable security blanket by purchasing TheodoreAndRose's pattern on Etsy, featuring high quality photographs to guide you through the process of creating your very own Frankie the little fox lovey blanket.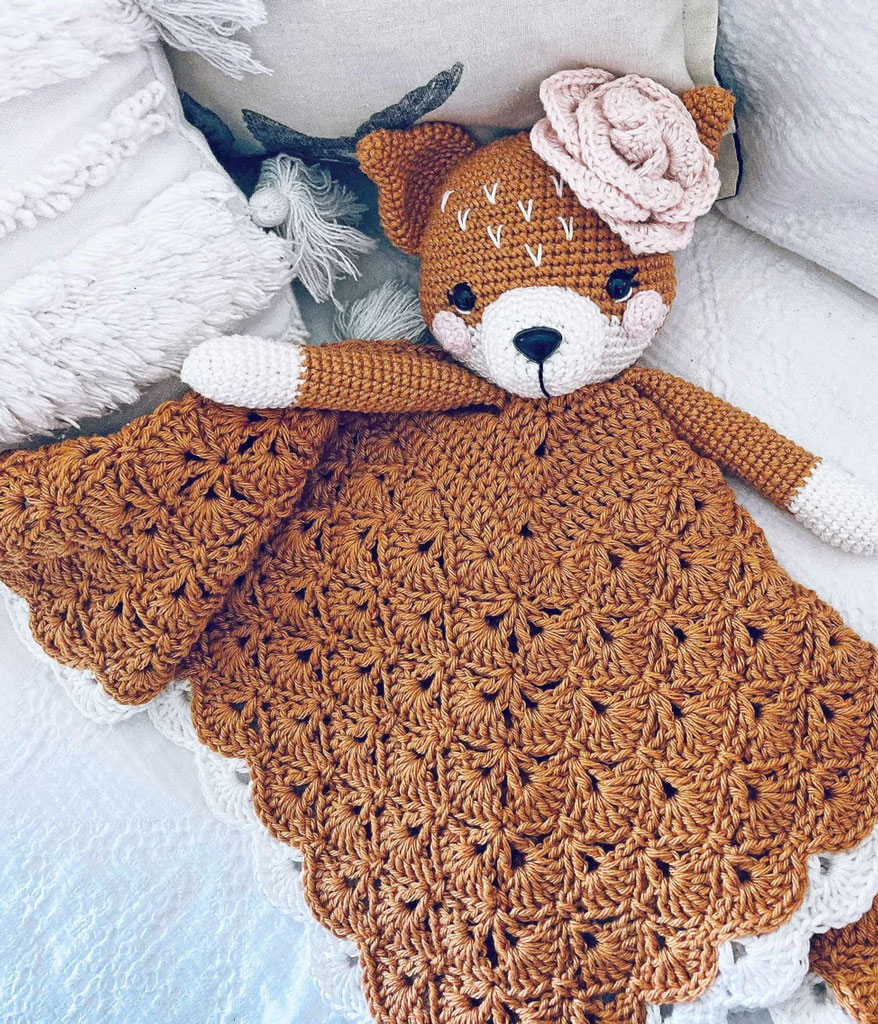 Deer Security Blanket
Meet Finley, a beautiful little Fawn who loves frolicking in the meadows making flower crowns. She also loves cuddles, making her the perfect little friend. Make this delightful Deer Security Blanket from TheodoreAndRose, featuring detailed instructions, including photographs to make this gorgeous lovey blanket.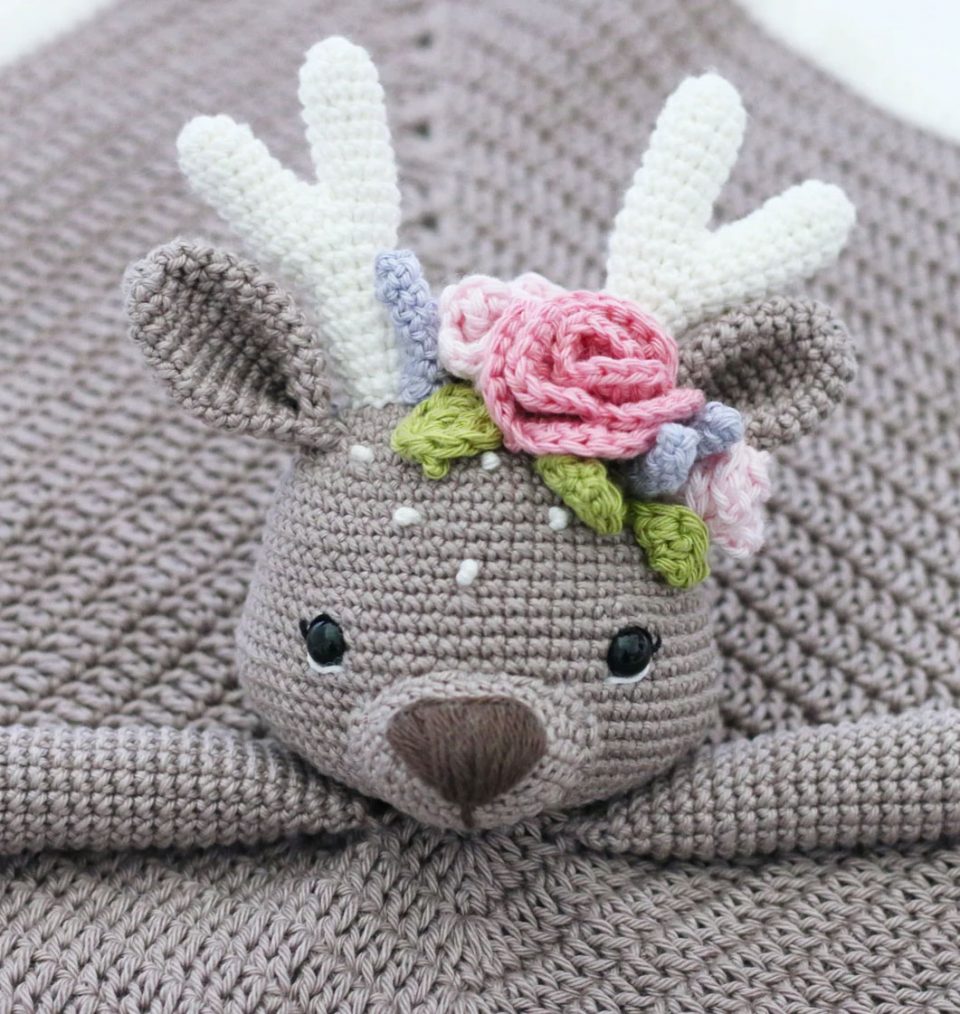 Sleepy Teddy Bear Security Blanket
Enjoy the creativity of making your own adorable Sleepy Teddy Bear security blanket with the crochet pattern and a detailed tutorial with step by step instructions and photos by TillySome that make crocheting this sweet lovey a breeze.
Rainbow Pony Security Blanket
Fans of My Little Pony's Rainbow Dash, will adore this bright and colourful Rainbow Pony security blanket, with the crochet pattern and all the detailed instructions and photos by TillySome.
Elephant Comforter Toy
Make a DIY Elephant Lovey Blanket in just a few hours with this crochet security blanket design featuring a special soft, floppy body that's easy to hold, providing comfort to any small child. With the pattern available from AmiAmore on Etsy, it's the perfect crochet gift for an expectant mom, or cute nursery decor, a new baby gift or a baby shower gift.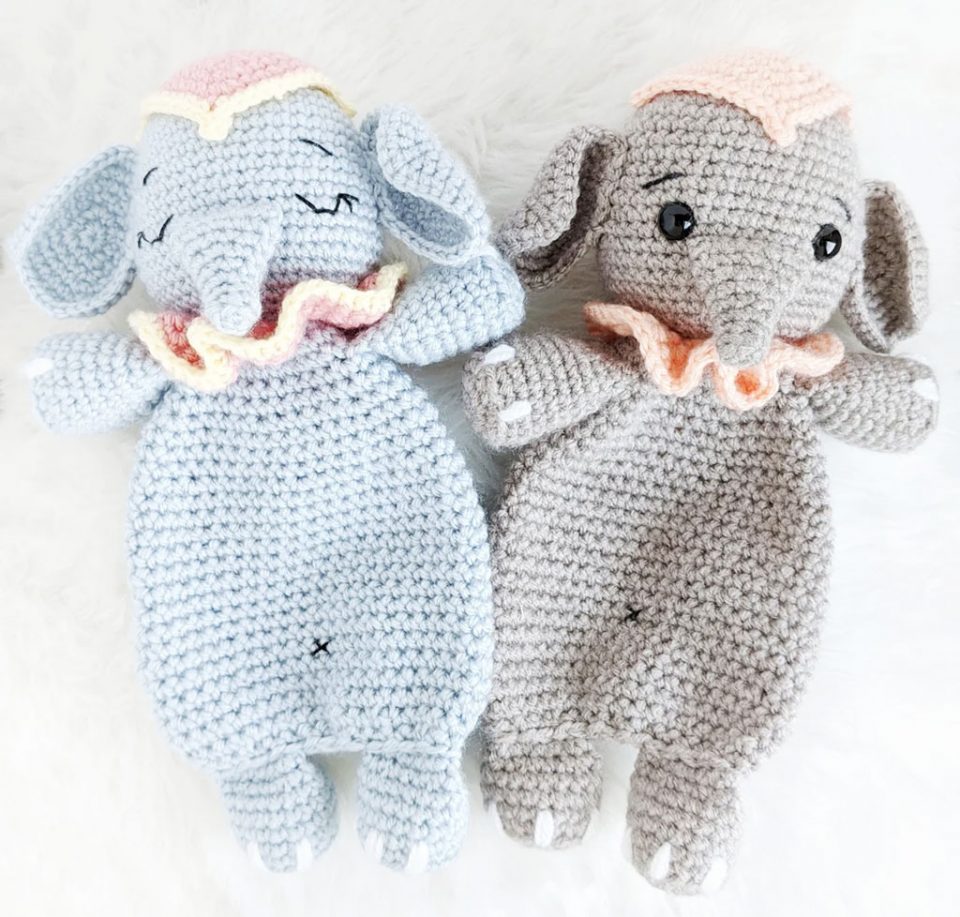 Triceratops Dinosaur Security Blanket
Make your own Triceratops Dinosaur Security Blanket will this crochet pattern by Janet Carrillo. The tutorial and pattern features all the instructions and photos you need to make the cutest little dinosaur blanket for your little one.
Hug Me Bunny Lovey
Make your own Hug Me Bunny Lovey with the pattern and all the instructions, photographs and list of everything you need to create this truly adorable bunny rabbit blanket. This bunny rabbit lovey makes a great gift for baby showers over at Nicole Chase, with more patterns to make loveys, soother blankets, snugglers, including a teddy bear, dinosaur, elephant and unicorn.