Bowtiful Emma Wiggle Gifts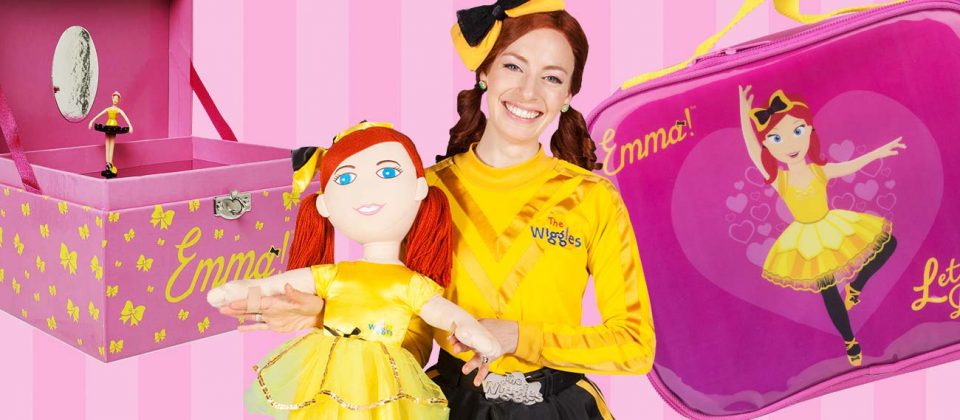 If you have a little Wiggles fan in your home, you'll already know that Emma is a favorite cast member of the children's music group. As an idol to most toddlers and preschoolers that love the Wiggles, Emma Watkins, is the yellow Wiggle and star of early childhood entertainment.
Lucky for you, there's lots of gorgeous Emma Wiggle toys and merchandise that don't just offer fun and games, but encourage learning and development and aim to give your child a bowtiful day every day.
1. Dance with Me Emma Doll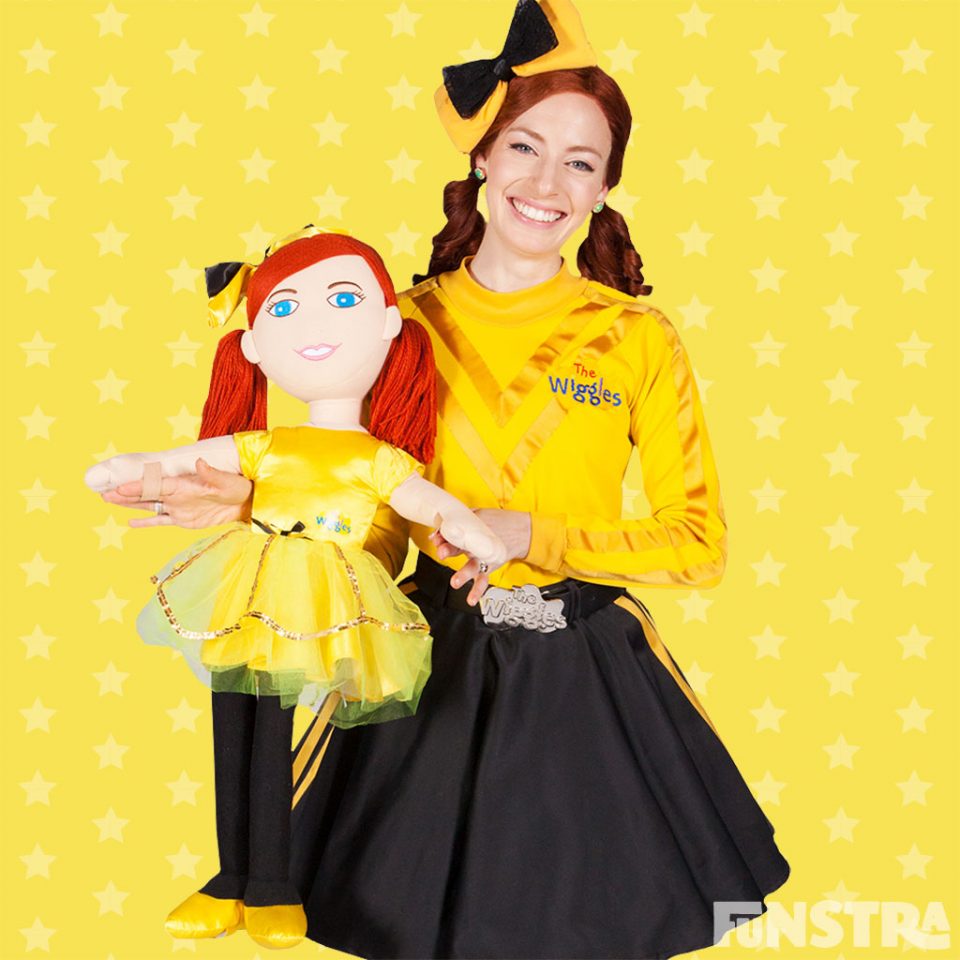 Are your ready to dance and sing with your favorite yellow Wiggle? The Dance With Me Emma doll is an adorable soft doll, with vibrant red hair, a bright yellow ballerina tutu outfit and charming smile. One of the biggest dolls we've seen, this giant size dolly stands at 31.5 inches (80 cm) tall. With elastic straps on her hands and feet, children attache her hands and feet to theirs and can sing and dance all day long with their new bow-tiful friend!
2. Let's Dance Lunch Bag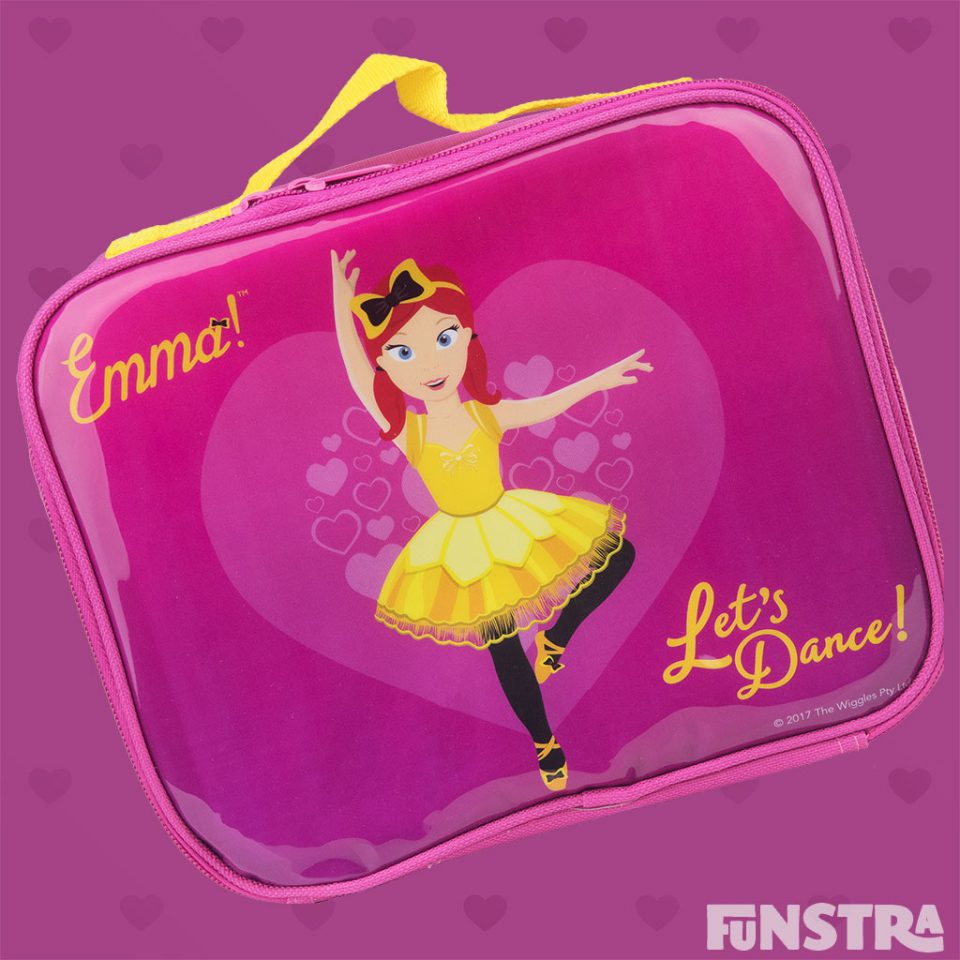 With all that twirling and dancing around, little Wigglers need to eat. Whether it's 'Fruit Salad, Yummy Yummy' or 'Hot Potato, Hot Potato', an insulated lunch bag will keep your child's meal fresh. The Emma lunch bag is pink and has a yellow handle and offers a beautiful design of Emma dancing ballet and decorated with love hearts with 'Let's Dance!' printed in the lower right corner.
For little fans that love Simon, Lachy and Anthony equally, there's a red lunch box with a blue handle, with a colorful 'Fruit Salad, Yummy Yummy' design of the Wiggles lunch bag that's just as adorable and promotes healthy eating with the Wiggles singing and dancing as hey hold on to apples and bananas. 'I like to eat, eat, eat… apples and bananas!'
3. Emma Wiggle Costumes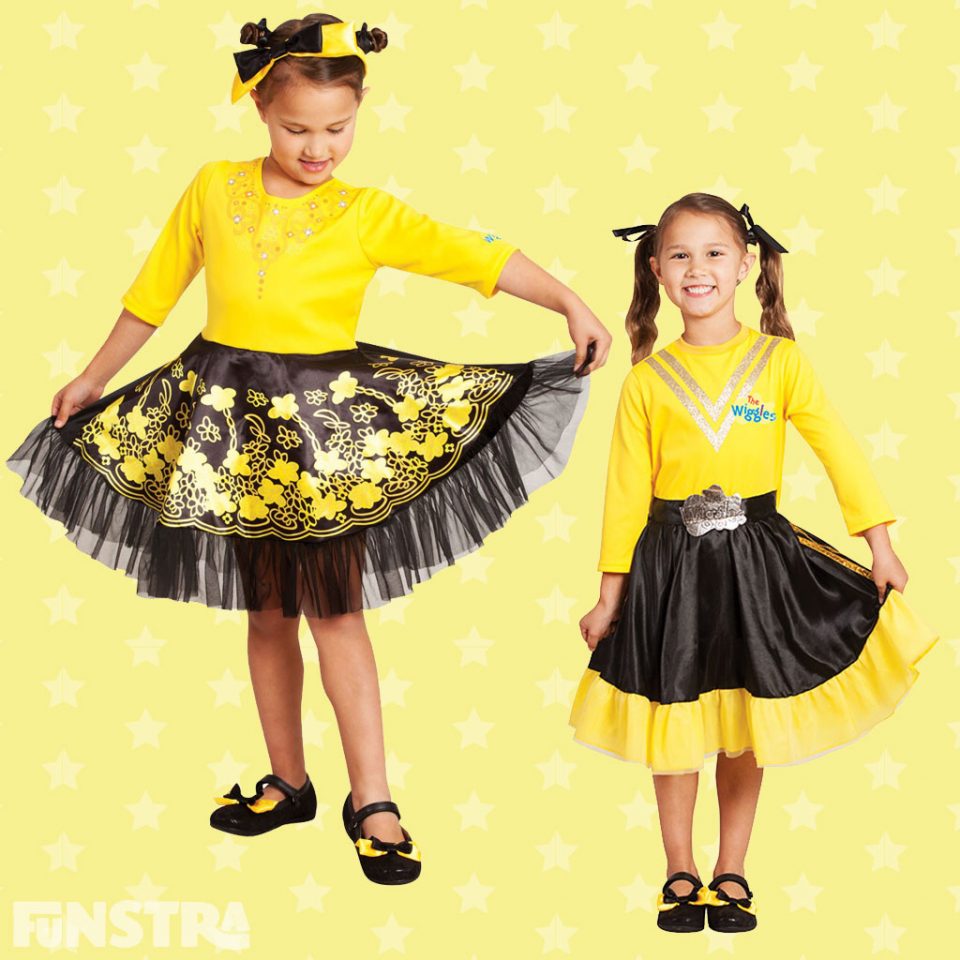 Dress up just like Emma in a yellow skivvy and black skirt with yellow trimmings in our deluxe Emma Wiggle Costume. The bright yellow skivvy is especially sparkly with glittery double 'V' shape that sparkles as little ones sing and dance around to the Wiggles songs and the official logo, just like the outfits that the cast wear at shows and on tour.
Costumes are great for dressing up and role-play, and create fun birthday parties and celebrations, as children and their parents can transform into one of the Wiggles. Whether you need a costume Halloween trick or treating or for book week, the yellow Wiggle with the bow in her hair is a great choice. The Wiggles costumes are available in toddler size and for children aged three to five years, with all members of the children's music group, with Lachy, Anthony and Simon costumes available too.
If your little one loves ballet, then the Emma Ballerina Costume is a must-have. With a beautiful design and trimmings on the skirt and top of the dream, children can twirl and dance in the yellow ballerina costume and feel just like a ballet dancer.
Your Emma costume wouldn't be complete without a yellow bow. The Emma Wiggle Bow comes attached on a headband to keep it perfectly in place. And to top it off, little ones can attach little yellow bows to their shoes too, which it just bowtiful!
4. Emma! DVD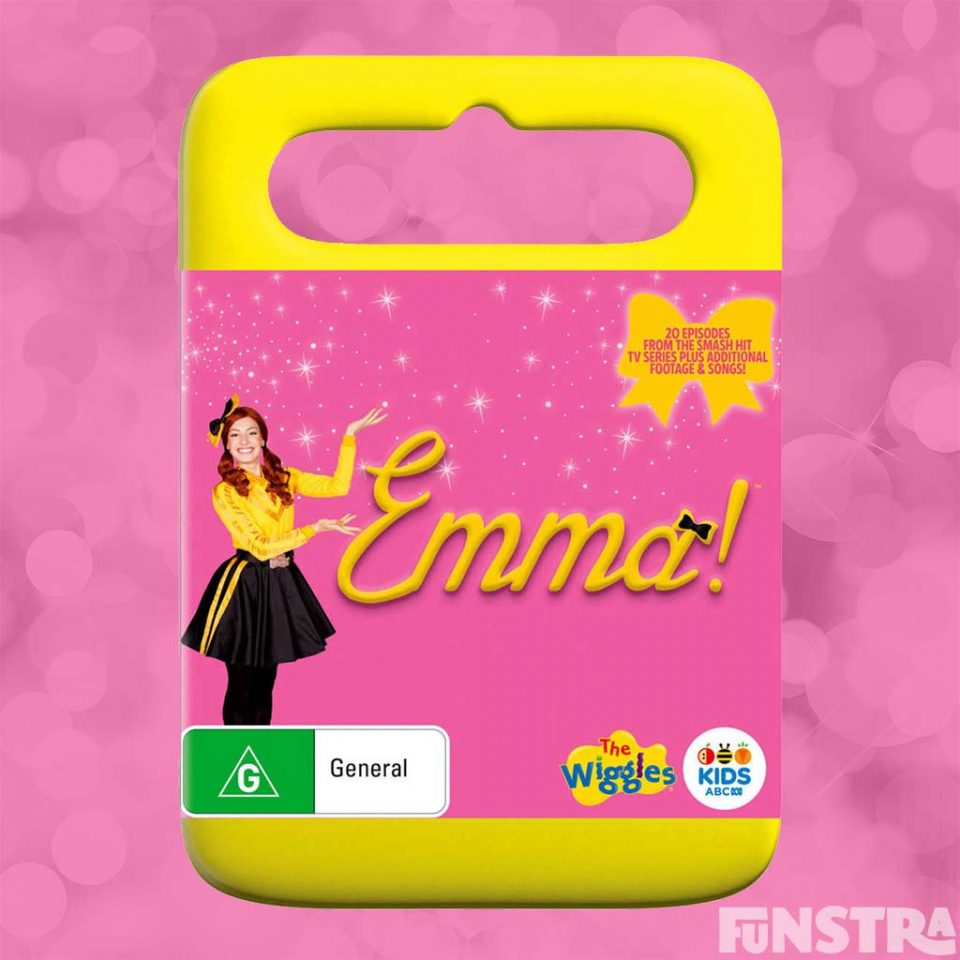 Have a bowtiful day, every day, with the Emma DVD. With 20 episodes from the smash hit TV series, plus additional footage and songs to dance and sing along too. Don't forget to dress up in your Wiggles costume as you sing, dance and watch the DVD and enjoy your dancing.
1. Emma's Irish Dancing!
2. Brush Your Pet's Hair
3. Ballerina, Ballerina
4. Galloping Ballet
5. Emma Sings in Italian!
6. I've Got My Glasses On!
7. French Fun!
8. Frère Jacques
9. Open, Shut Them
10. I'll Tell Me Ma When I Go Home
11. The Giraffe
12. Rock-a-Bye Your Bear Ballet
13. Michaud
14. Twinkling Star
15. I Love It When It Rains
16. ABC
17. Stille Nacht
18. I Like Goats
19. Emma's Country Garden
20. Emma (with the Bow in Her Hair)
5. Emma Cuddle Doll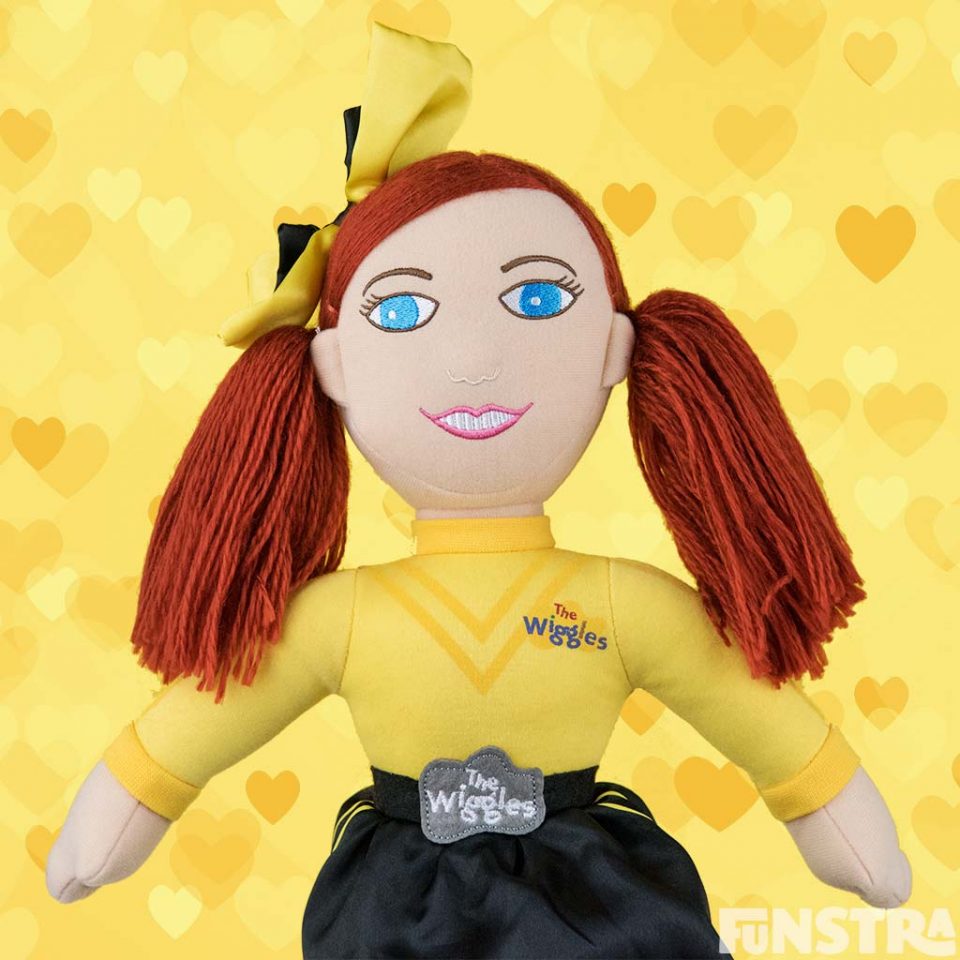 Ready, Steady, Wiggle! With her vibrant red hair, bright yellow outfit, that special bow in her hair and charming smile, this Emma Cuddle Doll is sure to become a beloved companion for fans of the yellow Wiggle! It's such a sweet doll and is one of many Wiggles soft toys, but stands out from them all, with the soft feel of a rag doll, and the perfect size to take this cuddly doll everywhere and anywhere. Featuring long dangling arms and extra huggable fabric, you will want to sing, dance and cuddle all day long with this bowtiful friend!
6. Musical Jewellery Box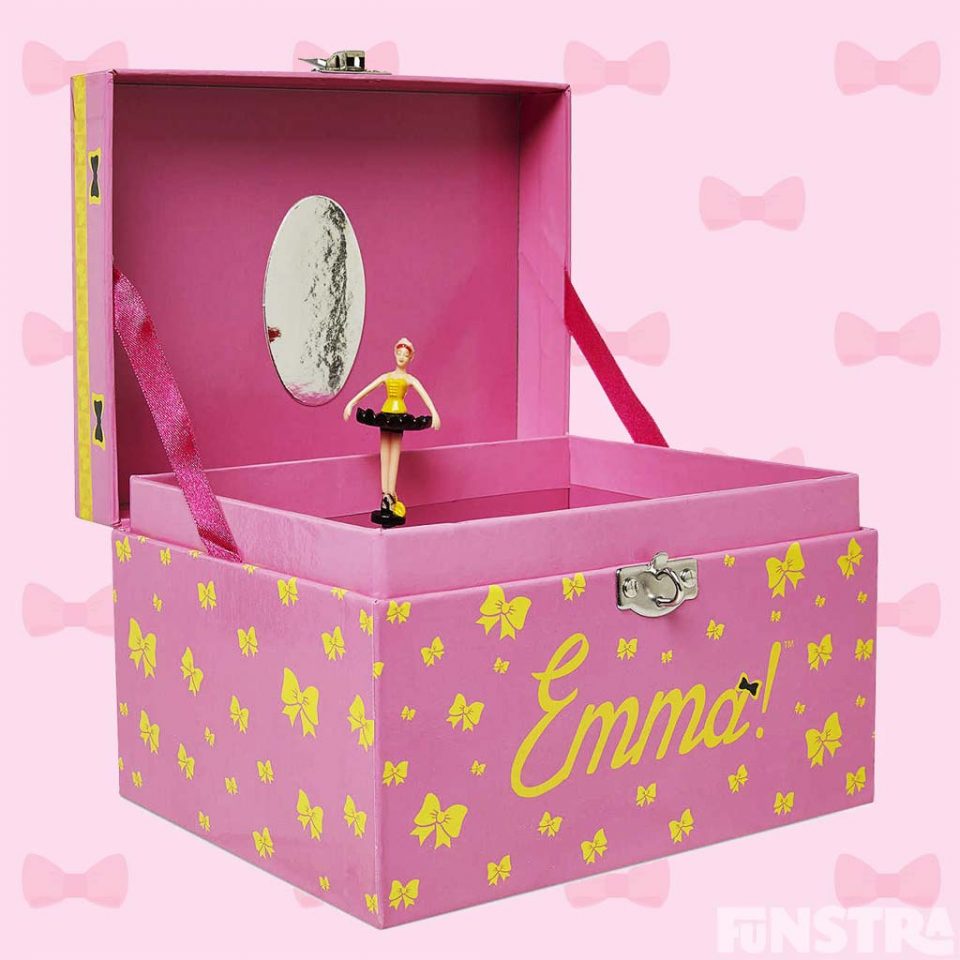 With an Emma ballerina figurine perfectly positioned inside, you can watch Emma twirl around as the music plays when you open this gorgeous jewellery box. This charming music box makes a perfect gift for your little Emma fan that dreams of ballet.
Wind up the music box and enjoy the magical musical melody that this pretty jewellery box plays while it keeps your precious trinkets and pretty treasures safe!
7. Emma Ballerina Doll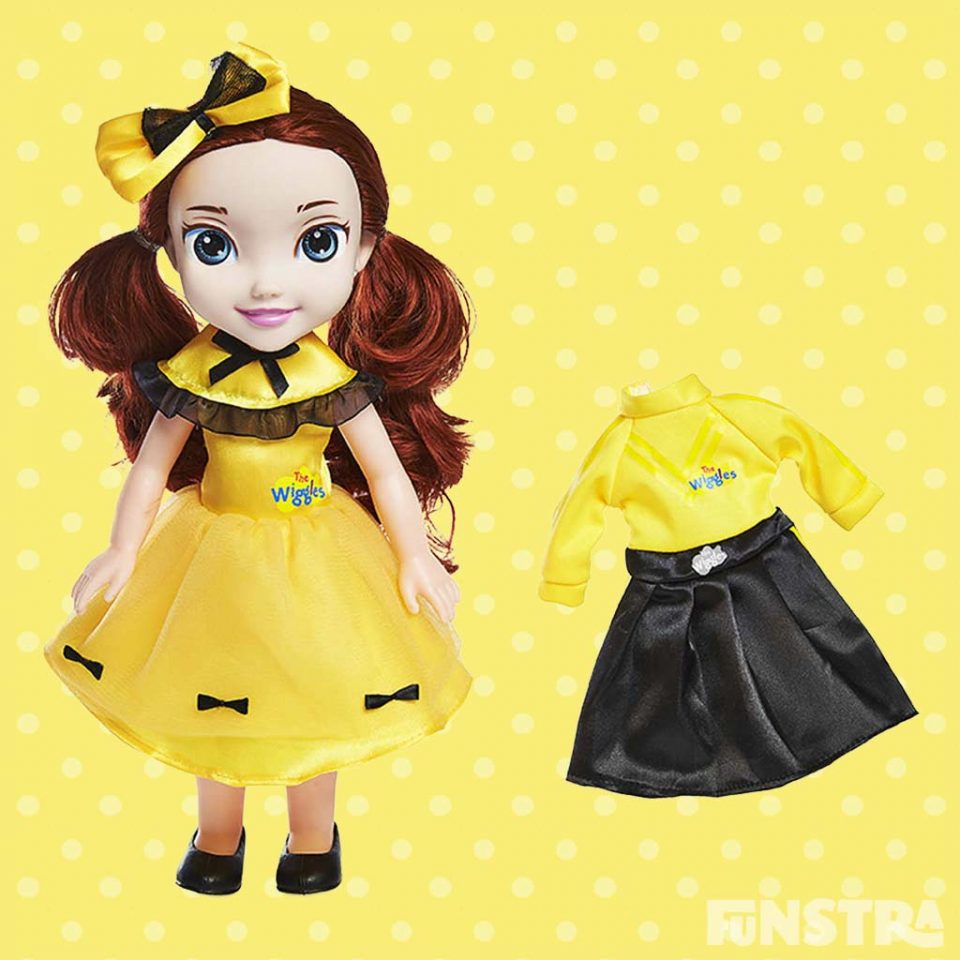 Make your little Wiggles fans' dreams come true with a gorgeous Emma ballerina fashion doll. The doll comes with her signature outfit of the yellow skivvy and black skirt, along with an interchangeable ballerina dress option, so little ones can dress her up until their hearts are content.
8. Emma's Microphone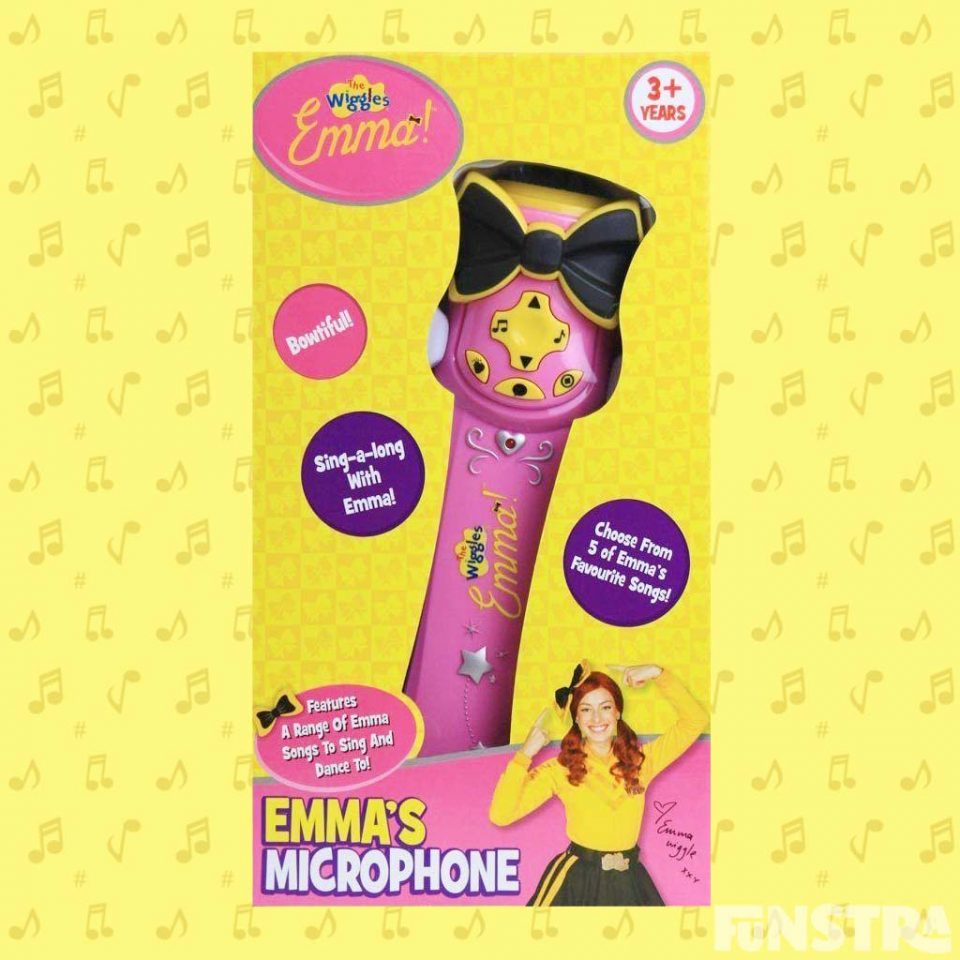 Your little one can dance and sing-along with their favorite Wiggle, thanks to Emma's Microphone. This fun, portable microphone for kids, plays sounds and songs and has eye catching lights to keep children entertained and happy. One of the many fun musical toys from the Wiggles, the microphone features five of Emma songs to sing and dance to.
With buttons that allow kids to 'Demo' a song, 'Demo All' the songs, skip through and control what songs play with a 'Next Song' and 'Previous Song' button, and an 'Applause' and 'Cheers' button for some extra support from your audience. And parents will be pleased that the microphone has an 'On'/'Off' button and volume controls too. It's simply bowtiful!
9. Emma Bowtiful Ballet Studio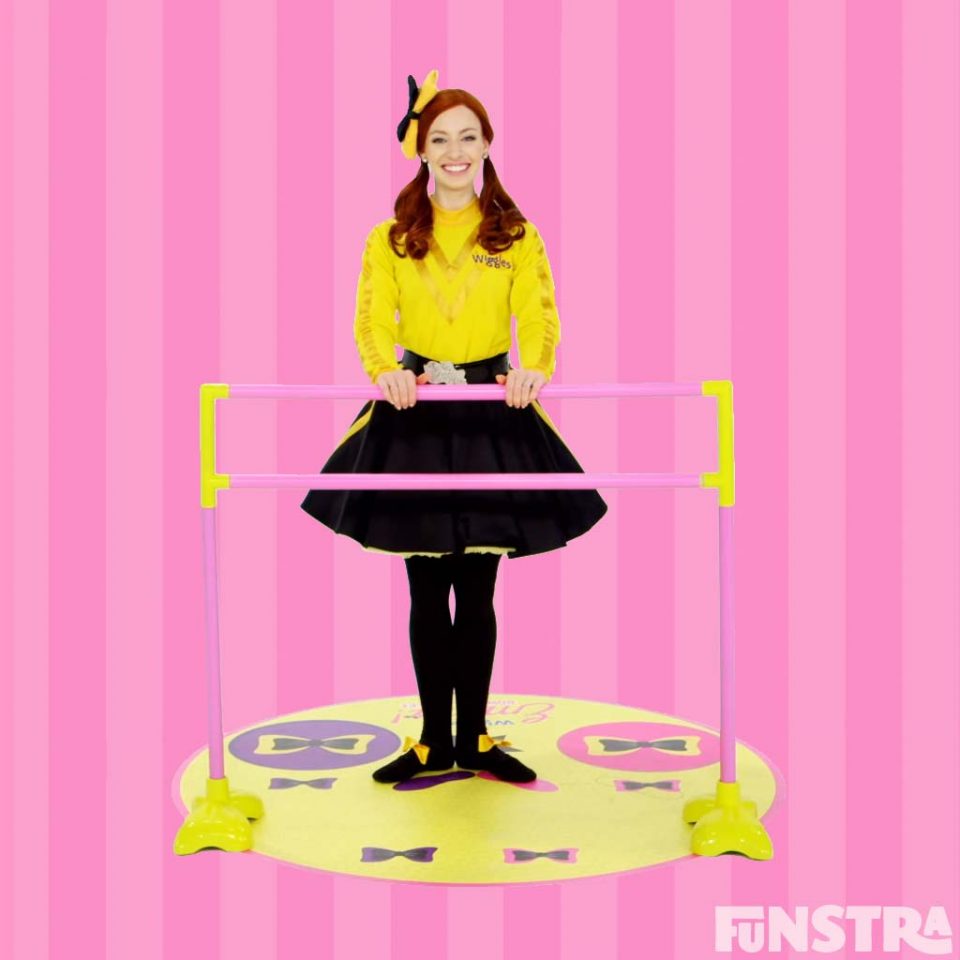 Every day is a bowtiful day when you're singing and dancing with Emma. Put on your dancing shoes and get ready to dress up in your tutu to learn ballet with Emma. The Bowtiful Ballet Studio includes ballet barre, double sided non-slip dance mat and a Wiggles instructional dance DVD with over 15 ballet moves and exercises to learn.
Learn to dance ballet steps and movements with grace and ease with the guidance of Emma and the other Wiggles – Lachy, Anthony and Simon.
Emma's Ballet Barre and Mat
Battement Tendu
Demi Plié
Rises
Pliés, Tendus and Rises
Battements Glisses
Port de Bras
Pointe and Flex
Marching
Skips
Glissade
Pas de Chat
Temps Levé
Classical Walks and Port de Bras
Spring Pointes
Skipping in a Circle
Dressing up for a Show
The Fairy Dance
Recital
Révérence
10. Emma Dancing Ballerina Doll
Winner of the 'Doll of the Year' in 2018 at the Toy of the Year Awards by the Australian Toy Association (ATA), the Emma Ballerina Dancing Doll by Hunter Products is a must-have for any little fan of the yellow Wiggle that adores ballet. Photograph coming soon.
Little ballerinas far and wide will enjoy the special features of the Emma Dancing Ballerina. Dressed in her iconic yellow Wiggles outfit, the ballerina dancing doll can dance ballet like she's has lesson from the Bowtiful Ballet Studio. Press down on her tiara and the music prompts this ballet dancing toy to pirouette on her toes.
That's not all this gorgeous ballerina doll can do, she can raise her leg and spin around too. The doll's head 'spots' while she's twirling and spinning around, just like a real ballet dancer! The Ballerina doll can do the splits and kick her legs forward and backward and moves gracefully on the tips of her toes, perfectly on pointe!
We'll leave you with our most favorite Wiggles song of all. So sing and dance along with the bowtiful yellow Wiggle, Emma, and enjoy play time with these Wiggles toys that will put a big smile on your little ones face and have a bowtiful day!