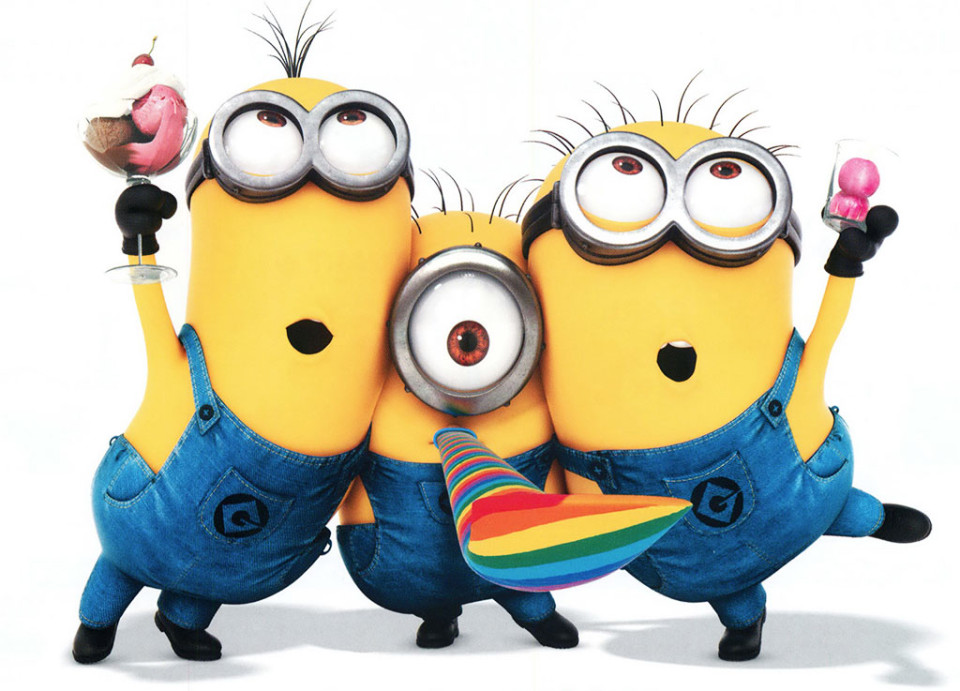 Minions make a fabulous theme for children's birthday parties for boys and girls and delight everyone from toddlers to grandparents, making them a great choice for any event, function or special occasion. With the runaway success of movies, Despicable Me, Despicable Me 2 and the recently released prequel, Minions, along with the highly anticipated Despicable Me 3 due for release in 2017, these lovable creatures aren't going anywhere and will make an impressive and memorable party theme for your kids. We have found some of the most creative and unique cakes featuring these adorable yellow creatures, to make your child's party a memorable one.
Hot Mama's Cakes have a fabulous selection of Minions cakes that are sure to wow your party guests. One of our favorites is the Minion wearing blue overalls and a party hat and attractively decorated with fondant and sitting next to a cupcake, featuring the number for your child's birth year. The cake board is decorated equally beautifully and surrounded by cupcakes, each decorated as the funny cartoon characters.
Hot Mama's Cakes are a family owned bakery in Elk Grove, California and specialize in hand-crafted, custom cakes and sugar art for all occasions. Their simple but sweet selection of cake flavours feature, classic vanilla, chocolate salted caramel, lemon drop, banana cream (perfect for any Minion), red velvet, oreo's and cream, carrot cake, strawberries and cream, peanut butter cup and death by chocolate, where fillings and buttercream flavors can be customized to your taste and liking. Like Hot Mamas Cakes on Facebook and see more photos of their edible works of art.
Another wonderful design from Hot Mama's Cakes features three minions on top on a single tier circular cake decorated with minion goggles, featuring them looking towards the clothesline that hangs their iconic blue overalls, back where it all began just like in the scene in the Minions movie, with amazingly clever detail and design. The cake board can feature your child's name and age decorated with fondant.
Minion Cakes for Girls
Girls that adore the Minions will love this fairy shaped minion cake also made by Hot Mama's Cakes. She is decorated with fondant and dressed in a pretty pink dress with a pink bow on top of her head and holding a wand that features your child's age. The cake board is decorated with fondant shaped in your child's name. The unique cake design is ideal for any little girl to spread a little minion magic on their special day.
Another fabulous cake for girls is the gravity defying cake featuring a minion with cute pigtails, skipping and wearing a green skirt with white flower detail made by Pirikos Cake Design servicing Coimbra, Portugal. And this one is exactly what minions love… banana cake, delicious! This amazing creation is a banana and chocolate cake with chocolate filling and it's all cake from under 1/3 of the skirt right up until the top. Incredible, isn't it!?!
Twinions Cakes for Twins
Twins can join in on the Minion birthday fun with another adorable cake from Hot Mama's Cakes that features two cakes shaped as minions wearing party hats their blue overalls that feature each child's name on the front. Again, the board is beautifully designed with a cupcake that has the child's age on top of it surrounded by polka dots and bananas, making this twins birthday cake a special one.
Minion Cakes for Boys
Superheroes and minions are an unlikely combination, but Hot Mama's Cakes have made a fabulous cake, particularly favored by boys with this Batminion cake. This fantastic cake is shaped as a minion who's dressed as Batman with mask and black attire, cleverly decorated with fondant.
More One in a Minion Cakes
There's even more Minion cakes made and decorated by Hot Mama's Cakes that you must see and again, they look simply too good to eat. Here this minion wears his classic blue denim overalls and a party hat to celebrate your child's birthday with a beautifully decorated cupcake in front of him and the cake board decorate with your child's name and age.
Another spectacular cake design from Hot Mama's Cakes features a slight variation with a minion shaped cake wearing a party hat and holding a banana – what minions love most!
King Bob makes a royally awesome cake with this incredible creation from Julie Cains Cakes. King Bob features amazing detail with his regal crown and robe and is sure to impress your children and party guests. Long live King Bob!
Mond Vol Taart are a baker from Zevenhuizen, Netherlands that offer special cakes for every occasion and have designed a fun upside down minion cake featuring a fondant decorated minion standing upside down wearing his iconic blue overalls with a cupcake sitting on top of its foot, showcasing the comedic and entertaining character of the minions.
Pauline's Cakes is a baker, cake designer and sugar artist from Selangor, Malaysia and has created a remarkable work of art showcasing the Minions movie characters Scarlet Overkill and Bob. This gravity defying structured cake features villain Scarlet Overkill, hanging the smallest and cutest minion Bob, upside down with her husband Herb's invention, the 'Limb Expander'.
Miss Molly's Cakes makes beautiful cakes from Melbourne, Australia and has a fabulous take on the Minion cake too.
Laura Loukaides Cakes is an award winning cake artist from Hertfordshire, United Kingdom, and has made a fantastic construction minion cake.
Oh Cupcakes is a cake designer from La Plata, Argentina
#Minions #torta #minionscake somos de #Laplata pero hacemos entregas en #CABA #pastry #pasteleria #ohcupcakes pic.twitter.com/I4RC9dnTzS

— Oh Cupcakes! (@holaohcupcakes) November 23, 2015
Shokupan Bakery is from Jakarta, Indonesia
Celebrate your loved ones special day with this cute minions invasion! Papoy! #minionscake pic.twitter.com/4CpbQOWmr3

— Shokupan Bakery (@ShokupanBakery) November 11, 2015
How to make a Minion Cake
Making a Minion cake may seem daunting, but Viva La Cake provides detailed instructions on how to bake and decorate your own delicious minion. From baking and assembling the cake into the shape of a minion, to covering the cake with fondant and applying and decorating the goggles, eyes and overalls.
Cakes by Choppa provides a fabulous video tutorial describing in great detail how to create your own minion cake that is sure to wow your children and guests. View Choppa's video on YouTube for the complete recipe, templates and detailed instructions.
We hope we've offered some inspiration for your cake and Minion themed party. As you can see, there are plenty of options and ideas when it comes to selecting a cake for your Minions theme party. For all you bakers out there that have attempted your own Minion cake, if you would like your cake to be considered for inclusion in our list, then please contact us and include a photo of your Minion creation.

#minionscake Looks too beautiful to eat!! pic.twitter.com/hEYE1Cmb3W

— Cafe Desserts ETC (@CafeDessertsETC) October 6, 2015
Happy Birthday nene de titi. Te amo Frankiel Anael❤️ #minionscake pic.twitter.com/bYqtfsiFht

— Wildallys Miró (@Wildallys) April 6, 2015
Always fun when Minions are the theme #kakedesign #cakedesigner #minionscake #stuart #k… https://t.co/cx6dPdkAWF pic.twitter.com/ZSW0ItPagM

— KtO Kom til Oppegård (@KtO_Kom_til_Opp) November 22, 2015