The Best Songs and Music from Play School on ABC Kids
'There's a bear in there, and a chair as well.
There are people with games, and stories to tell.
Open wide, come inside; it's Play School.'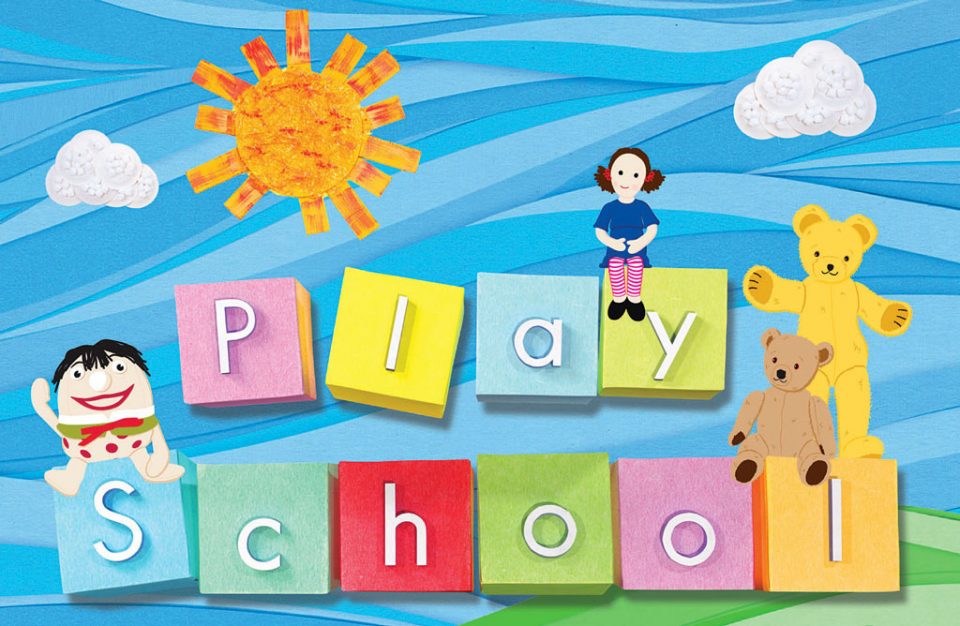 Sing and dance along with Big Ted, Little Ted, Jemima, Humpty and the Play School toys as you listen to the best of Play School albums, featuring songs and music from the Australian children's television series on ABC Kids that has entertained and educated kids since its initial broadcast in 1966.
Play School has been entertaining preschoolers, providing them with new experiences and learning opportunities through music, crafts, stories, games, ideas and information. Play School aims to encourage a child to wonder, to think, to feel and to imagine.
Play School: 50 Best Songs
Celebrate with 50 of the best songs featuring a wide range of much-loved presenters from throughout the 50 years of Play School.
Preschoolers will love this collection which includes some much-loved favourites: Hokey Pokey, Do Your Ears Hang Low?, Shake My Sillies Out, Heads and Shoulders, If You're Happy and You Know It, Bear Hunt, She'll Be Coming 'Round the Mountain and lots lots more!
Famous Friends: Celebrating 50 Years of Play School
In celebration of Play School's 50th Birthday, ABC Kids have gathered together a bunch of Play School's closest friends to help celebrate on this special ABC Music release.
Featuring a stellar cast of Australian personalities, Famous Friends presents all your much cherished nursery rhymes and stories performed as part of ABC TV's Play School anniversary series. Old favourites such as Benita Collings, John Hamblin and Don Spencer are joined by a wealth of Aussie talent including You Am I, Dan Sultan, Emma Wiggle, Carrie Bickmore, Katie Noonan, Missy Higgins, Josh Thomas and many more.
There's a Bear in There – Emma Wiggle
There's a Hole in My Bucket – Hamish & Andy
Nursery Rhyme News – Molly Meldrum & Charlie Pickering
Three Little Fishies – Missy Higgins
Ning Nang Nong – Josh Thomas
Little Peter Rabbit – Benita Collings & Don Spencer
The Bunyip of Berkeley's Creek – Tim Minchin
Old Mother Hubbard – Magda Szubanski
Old Macdonald – John Hamblin
The Wheels on the Bus – Dan Sultan
I Can Sing a Rainbow – Katie Noonan
Five Cheeky Monkeys – Jeremy Fernandez
Fairytale Story – Umbilical Brothers
Going on a Bear Hunt – Kurt Fearnley & Rachael Coopes
Rhythm – Tim Omaji
Counting Aussie Animals – Adam Goodes
I'm a Little Tea Pot – John Hamblin
I Like Peace I Like Quiet – Kate & Gypsy Ceberano
Family Forest – Carrie Bickmore
Big Bass Drum – Architecture in Helsinki
If You're Happy and You Know It – The Matildas
The Owl and the Pussycat – Kate Miller-Heidke
Singing in the Kitchen – Leigh Sales and Annabel Crabb
One Potato, Two Potato – You Am I
Morningtown Ride – Bernard Fanning
The Emperor's New Clothes – Lee Lin Chin & Takaya Honda
Teddy Bears Picnic – Benita Collings & Don Spencer
There's a Bear in There (Kip Remix)
There's a Bear in There (Copycatt Remix)
There's a Bear in There (Jondrette Den Remix)
Big Ted, Prince of Bears
Prince Big Ted has a royal crown, he has a royal cloak but doesn't have a royal castle. He sets off to find one, and is joined by his friends Humpty, Jemima, Little Ted and the rest of his Play School Friends.
Jemima's Big Adventure
Jemima's Big Adventure Theme Song
A Sailor Went To Sea
I'm A Pirate
The Poor King
The Grand Old Duke Of York
Dinosaur Long Ago
Dino Stomp
Swim Like A Fish
Here Is The Sea / Little Shell
Three Jelly Fish
Twinkle Twinkle Little Star
Singing A Cowboy Song
R-O-B-O-T
Kookaburra Sits In The Old Gum Tree
Paint A Rainbow
Funny Caterpillar
Possum Up A Tree
Crocodile Hunt
The Elephant Wobbles
I Know A Hairy Bear
Der Glumph
Cows In The Kitchen
Five Little Ducks
All The Pretty Little Horses
If You're Happy
Celebrate (Hip Hip Hooray)