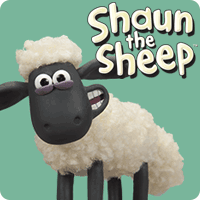 "Life's a treat with Shaun the Sheep!" Shaun is a clever sheep, leader of the flock and lives at Mossy Bottom Farm with his barnyard buddies, Bitzer the sheepdog, the Farmer, Pidsley the cat, the Naughty Pigs, Shirley, cousin Timmy, Nuts, Hazel and the rest of the flock. Explore the woolly world of toys, and merchandise Shaun and friends and their adventures from Mossy Bottom Farm available at Funstra.

The leader of the flock is the star of the show and we follow his comical adventures and mischief, as leader of the flock, alongside his woolly companions and the other farmyard animals at Mossy Bottom Farm. The popular children's comedy television series is produced by Aardman Animations and is a spin-off series of the Wallace and Gromit franchise with the birth of Shaun the Sheep in 'A Close Shave' and the mischievous little sheep was launched as the star of his own TV series in 2007. Shaun was named as a pun on the word 'shorn' after he was accidentally subjected to Wallace's automated sheep shearing machine.

With 150 episodes, the British stop-motion animated television series has become a global phenomenon and has been accompanied by the original movie named after the wooly four-legged hero, "Shaun the Sheep: The Farmer's Llamas", a spin-off series, "Timmy Time", based on Shaun's cousin and the latest movie "Shaun the Sheep Movie: Farmageddon". Shaun and the flock has since featured on Netflix in the latest series subtitled, "Adventures from Mossy Bottom", featuring a super-fast squirrel named Stash and more new characters.
Meet the Characters

Shaun

Bitzer

The Farmer

Pidsley

Timmy

Shirley

Timmy's Mother

Nuts

Hazel

The Naughty Pigs