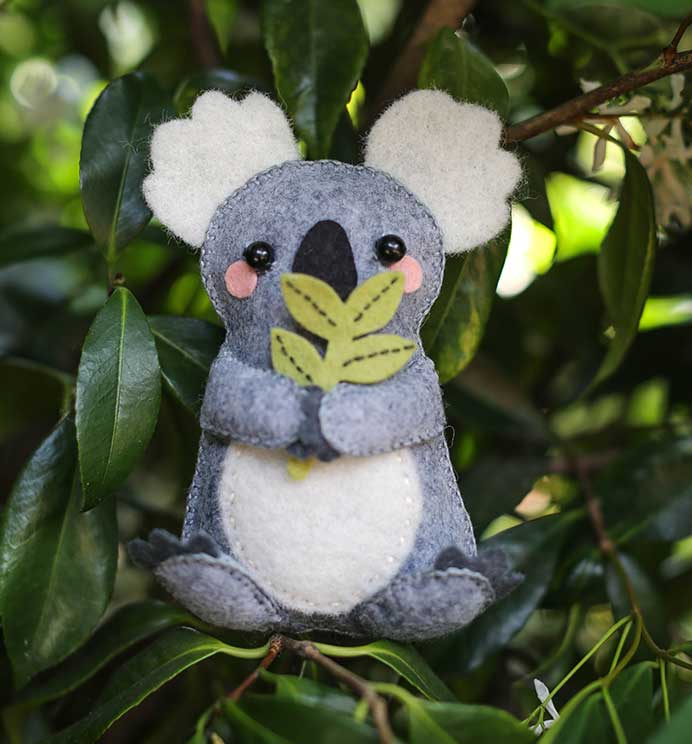 Koalas are cute and cuddly furry friends that are adored by so many, both children and adults alike. Whether you're looking for a craft project or a meaningful handmade gift for that koala lover in your life, we've compiled a collection of the best handcrafted koala plush toys that are sure to put a smile on your face.
Creating your own personalised koala plush toy allows you to choose your own textiles, fabrics, colours and style, and make your own truly beautiful koala creation that you can cherish and enjoy or gift to someone special.
Felt Koala Stuffie
Make your own gorgeous felt koala stuffie with this pattern and detailed instructions from Lia Griffith. All you need to make this adorable koala bear is some wool felt, black beads, embroidery thread and some fiber fill. Make this simple project and you'll have the sweetest little koala plushie to snuggle for yourself or a handmade gift to give to someone special. Visit Lia Griffith for all you need to create this cute koala stuffed toy and many more beautiful craft ideas.
Crochet Koala Plush Toy
Make the sweetest crochet koala plush toy holding a flower. The list of required materials, pattern, detailed instructions to make the soft and cuddly koala plush, photographs and video tutorials are available for purchase on Ravelry.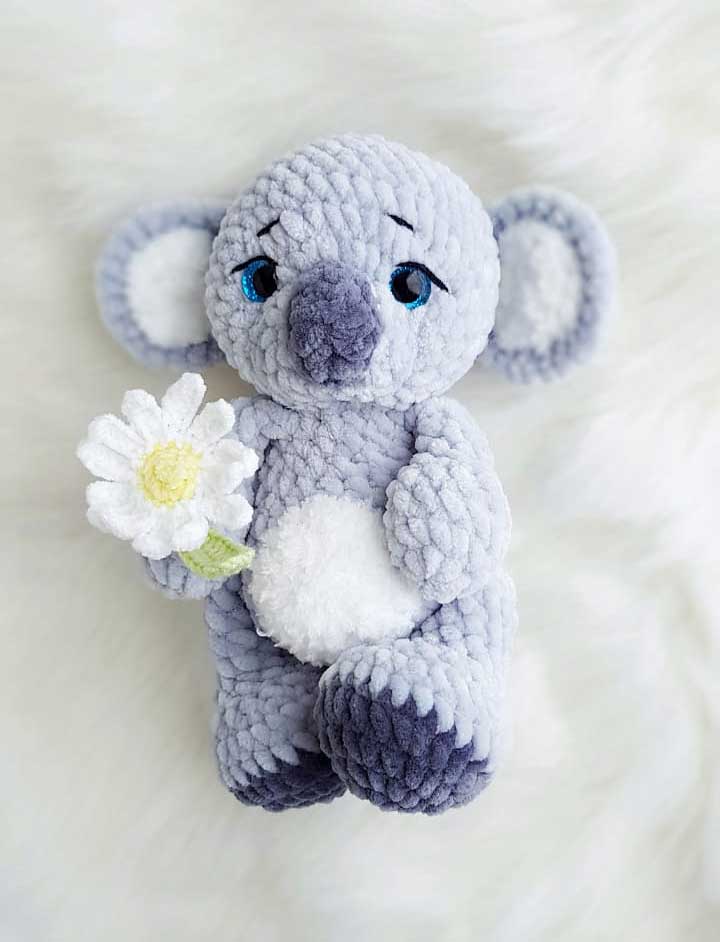 Koala Sock Plush
Make your own soft and cuddly koala sock plush toy. Start with some fluffy socks in any colour. Turn one sock inside-out and begin sewing your little koala plushie. Fill with stuffing and sculpt the shape of the koala, sewing up the end to close up and make the little koala's body. Use the other sock to sew and stuff the koala's ears. Sew some beads on your koala for eyes and complete your koala plushie with a back nose and rosy cheeks. Maqaroon offers all the instructions to create your own sweet koala sock plushie.
Koala Sock Doll with Love Heart
Make a koala plush holding a love heart to give to someone you love. With this easy craft project, all you need to create this adorable koala plushie is some socks, stuffing, beads, a needle and thread and some scissors and some basic sewing skills. Old Town Creations provides all the instructions to make this gorgeous koala craft project.
Cute Koala Plushie
Sew your own cute koala soft plush toy with some cutting and sewing skills. To begin, turn the sock inside out and mark and cut a curve along the heel. Sew together the curved seam, leaving you with a closed sock. Cut an opening at the toe and turn the sock inside-out. Fill the sock with stuffing and mould the shape to create the koalas head and body, closing off the opening with a running stitch. Now with the other sock, make the koalas ears to attach to its body. Complete your koala plushie by attaching the ears, sewing black felt eyes and a nose onto your plushie and painting some pink cheeks onto your koala. Girl Talk World turn a simple sock into a super cute koala plush with all the instructions in this comprehensive video.
Felt Koala Plush
Create the cutest felt miniature plush koala. All you need to make this adorable project is some grey, black, pastel blue and pastel pink felt, some beads for the little koala eyes, some stuffing, glue and a needle and thread. Miss Tricks Mix Crafts and DIY channel on YouTube offers all the instructions to make your mini furry friend.
Crochet Koala
Crochet your own soft and cuddly koala stuffed animal. You'll need a ball of chenille yarn, a small piece of fluffy yarn, a 4mm and 5mm crochet hook, stuffing, black cotton yarn and safety eye buttons or your koala's eyes to make this gorgeous crochet koala. Tommy's Sheep Crochet and Knitting channel on YouTube shows all the steps to crochet a koala bear.
Koala Felt Keychain Plush
Make your own adorable koala plush keychain with some felt, safety eye buttons, stuffing, keychain, hot glue and a needle and thread. Miss Tricks Mix Crafts and DIY has all the instructions to make your own cute koala plush keychain.
Charlie The Koala Crochet Pattern
Enjoy the creativity of making your own beautiful koala soft toy with an easy crochet pattern and a detailed tutorial with step by step instructions by misispolka that make crocheting this sweet soft toy a breeze.